Every woman dreams of the perfect wedding proposal. There are no rules when it comes to proposing marriage. But there are dozens of memorable ways in which you can declare your undying love for and loyalty to her.  Here are 20 select ideas on how to propose.
1. Propose over a fancy dinner
Proposing to your girlfriend at her favorite restaurant over dinner is a timeless and classy idea. You could talk to the restaurant manager in advance and arrange a violinist or a cellist to play some good music when you plan on dropping down on one knee to pull the ring out. The best part is that you can get the proposal recorded easily without her knowing, and surprise her again at the wedding reception by playing the video recording in front of friends and family.
2. Message on a cake
If your girlfriend loves cake, like most of the women out there, order a cake with the proposal written on it in frosting. Take your unsuspecting fiancée-to-be to your place, bring out the cake and present her with the ring as she reads the message.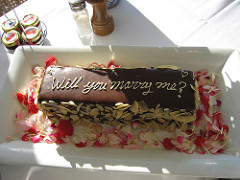 3. Propose at your favorite spot
Most couples have frequently visited spots such as parks or monuments or sometimes even the beach and may have a place that they call their own. At your favorite hangout spot, surprise her with the ring. Have friends capture the moment with pictures from various angles.
4. Garden proposal
If you have a backyard garden, use fairy lights to write out 'Will You Marry Me?'  Wait for the sun to go down, take her out to your garden, switch the lights on and get down on one knee to pop the question.
5. Unfurl the message
A simple way to propose to your girlfriend is to get her an umbrella and have the proposal message written on the inside. Gift it to her on a rainy day and watch her expression as she opens the umbrella.
6. Box-within-a-box
Get her a gift-wrapped big box with a small box inside and another, smaller one inside that one, like the Russian Matryoshka doll, until she gets to the box containing the message and ring you have specially picked out for her.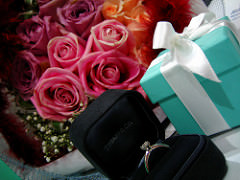 7. Nostalgia-evoking proposal
Fill your room with photographs and memorabilia associated with your relationship, preferably in chronological order. Bring her into your room, get down on one knee and ask her to be a part of your life for years to come.
8. Propose with a necklace
Instead of the traditional ring, gift your girlfriend a necklace with a locket that can be opened. Write the proposal message on a piece of paper and hide it inside the locket. She can always wear the necklace and be reminded of how you chose to declare your eternal love for her.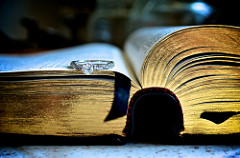 9. Propose on an airplane
If you and your girlfriend are frequent flyers, what better way to propose to her than while 30000 ft up in the sky? With the help of the flight crew, you can even use the loudspeaker system inside the aircraft to pop the question. Be sure that her answer is likely to be yes, or you'd both be staring at a long flight that's awkward at best and with no escape for a few hours.
10. Radio proposal
If your girlfriend is in the habit of listening to the radio, call a popular radio station and arrange to have them play your recorded proposal on the air. Be sure to be by her side when the segment is scheduled to play, and have the radio on. Keep the ring and flowers ready to roll out when the broadcast catches her by surprise.
11. Propose on a night drive
Get glow-in-the-dark stickers and spell out 'Will You Marry Me?' on the roof of your car. Take her out for a romantic late night drive. Then park away from the street lights, give it a minute for the letters to become bright and ask your girlfriend to look up. Have a ring ready to make it official.
12. Wedding proposal video
Create a proposal video with a slideshow of beautiful moments you both have spent together. Ask her to come over to your place to watch a rented movie and as the credits roll in, switch to the video and offer her the ring at the end of it.
13. Chocolate sauce wedding proposal
Another way to surprise your girlfriend is to take her to a nice patisserie to have her favorite dessert. Arrange with the pastry chef in advance to have 'Will You Marry Me?' written on the rim of the dessert plate with chocolate sauce. Few proposals would be as sweet.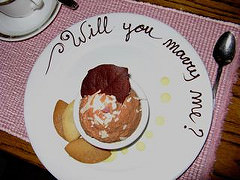 14. Propose over a home-cooked dinner
If your girlfriend likes that you can cook, pick a relaxing evening and invite her over for a meal. Prepare her favorite dishes, set up a candlelit dinner, and propose to her afterwards. Sometimes, the way to a woman's heart, too, is through her stomach!
15. Live-stream your wedding proposal
If you want all your friends and relatives to witness the memorable occasion when you ask your girlfriend to marry you, set up a live stream channel and invite all of them. This is a great idea especially if you have close friends or relatives who are in distant places.
16. Spell the proposal message with magnets
Gift your girlfriend a pack of refrigerator magnet letters prior to the day you plan to propose. Arrange them so that 'MARRY ME' can be spotted within the jumble of magnets.  Treasure the look of surprise on her face as her eyes land on the message.
17. Propose at a theater
If you and your girlfriend are theater lovers, get in touch with the stage manager of her favorite production group and propose to her on stage after the curtain call.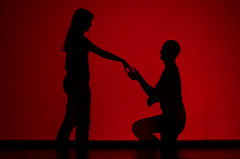 18. Scavenger hunt proposal
Who doesn't love a scavenger hunt especially when the prize involves your boyfriend asking you to spend the rest of your life with him? Place the first few clues at her house and lead her to the place where you had your first date. Be ready with the ring and a bunch of roses by the time she arrives.
19. Propose to her at the beach
On a casual beach date day, when your girlfriend is not looking, spell the proposal message out on the sand. But make sure the waves don't wash them away!
20. Propose after a night of dancing
Propose to your girlfriend on the dance floor of her favorite club.  Get the mic from the DJ at the end of the night and dedicate a song to her.  Better still, sing if you can.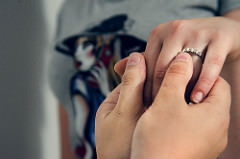 Editor's note:
When the love of your life drops down on one knee and professes his undying love for you, wouldn't you want that recorded on tape? Watch Wedding Proposal Videos for ideas.