From diverse flora and fauna to wildlife, India boasts of a charming landscape for any nature lover.  If you love exotic wildlife, transcending natural beauty and tranquility, then add these top 10 National Parks to your bucket list.
1. Jim Corbett National Park
Best time to visit: November to June
Spread over 1300 sq kms, Jim Corbett National Park in Uttarakhand is India's first National Park.  From lush hills to marshes, the vegetation and geography of Corbett allows it to be a home to tigers, crocodiles, elephants, peacocks, monkeys, sloth bears, and many other types of wild animals.  Wildlife enthusiasts can rent jeeps to travel within the park.
2. Kaziranga National Park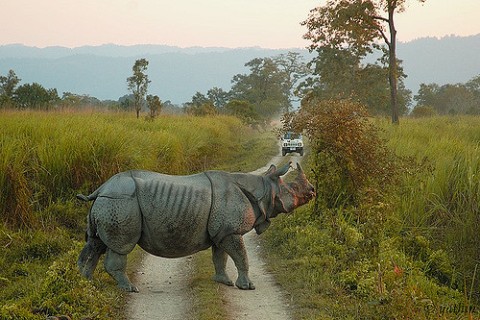 Best time to visit: November to April
Situated in Assam, Kaziranga National Park is home to two-thirds of the world's great one-horned rhinoceroses.   Indian Wildlife Conservation laws provide most priority and top protection to this park.  It is also a Tiger Reserve, having the highest density of Royal Bengal Tigers.  Elephants, wild water buffaloes, and swamp deer are some of the other animals that can be spotted in Kaziranga.  Guided elephant-rides and jeep safaris are available in the park for tourists.
3. Bharatpur National Park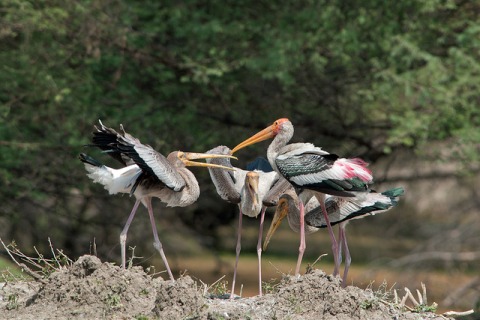 Best time to go: August to November
Bharatpur National Park, also known as Keoladeo Ghana National Park, is a place every bird-lover should visit.  Bharatpur lies between Agra and Jaipur, but only the nature lovers make the detour  to visit this national park which hosts over 350 species of birds.  Despite the extreme cold during winter, tourists make their way to Bharatpur to catch a glimpse of the various migratory birds that arrive between November and April.
4. Periyar National Park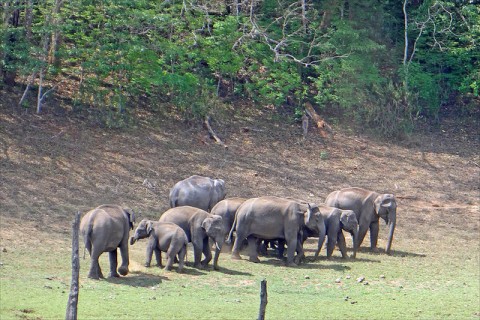 Best time to go: October to February
Periyar National Park and Wildlife Sanctuary is an elephant and tiger reserve, located on the Western Ghats in Kerala.  Emerald-green grasslands amidst thickly-wooden hills, and meandering rivers and lakes make Periyar National Park the home to many animals, birds, and reptiles. Boat rides and jungle safaris allow visitors to view more of this park has to offer. 
 5. Ranthambore National Park, Rajasthan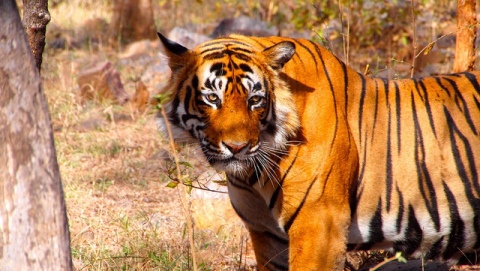 Best time to go: November to March
Ranthambore is the best place in Rajasthan to spot wild tigers.
Comprising 1334 sq km of wild jungle scrub hemmed in by rocky ridges, this famous park, open from October to June, this is the best place to spot wild tigers in Rajasthan. At its center is the amazing 10th-century Ranthambhore Fort, scattered around which are a number of ancient temples and mosques, hunting pavilions, crocodile-filled lakes and vine covered chhatris. The most famous resident of the park is, of course, the tiger. Spotting one is a matter of luck; you should plan on two or three safaris to improve your chances. But remember there's plenty of other wildlife to see including more than 300 species of birds. The only way to travel into the core of the national park is by going on the safari.
6. Sunderbans National Park
Best time to visit: November to March
Suberbans is the world's largest estuarine forest.  This mangrove forest of a national park is the largest reserve for the highly-acclaimed Royal Bengal Tiger.  Unlike other national parks where tourists travel to the heart of wilderness by jeeps, here boats glide through creeks and rivulets, bordered with mangrove forests.  Sunderbans, world's largest estuarine forest and delta is situated on the lower end of Gangetic West Bengal.  If you want to experience the essence of spirituality then this is the place to be.  Boating and jeep safaris can be availed by tourists.
7. Bandipur National Park
Best time to visit: March to May
Located amidst the picturesque surroundings of the towering Western Ghat Mountains on the Mysore – Ooty highway in Karnataka, Bandipur National Park covers an area of about 874.2 sq km. It is home to many of nature's beautiful creatures.
8. Sariska Tiger Reserve
Best time to visit: April to June
Located just 100 km from Jaipur, Sariska is the first tiger reserve in the world to be home to successfully relocated tigers.  It is home for wild animals like the leopard, chinkara, wild boar, and plenty of bird species and unique reptiles like big snakes, monitor lizards, and turtles.
9. Gir Wildlife Sanctuary
Best time to visit: December to March
It is the single home of the pure Asiatic Lions or Indian Lion and is considered to be one of the most important protected areas in India as well as in Asia.  The lion-count in Gir Wildlife Sanctuary is 411, an increase from the year 2005. Gir also includes sloth bears, jungle cats, striped hyenas, and some time black bucks also appear.
10. Kanha National Park
Best time to visit: April to May
Kanha is a tiger reserve park located in the Mandla, Madhya Pradesh. The park has a significant population of Royal Bengal Tiger, leopards, Barasingha, and Indian wild dogs.
Editor's note:
Coorg is also another excellent place to see the wonders of nature.