Jodi365 is for quality singles. People have long needed to take our word for it, though. That's because we're big on privacy and don't let random visitors browse profiles on our platform, as if it were a shopping catalogue. However, through this new Spotlight section, we're happy to showcase attractive, accomplished, and authentic single professionals – individuals who are representative of the kind of quality singles you can find on Jodi365. Here's featuring an alluring and artistic design professional N. (Respecting her desire for some semblance of privacy, we're not disclosing her name.)
---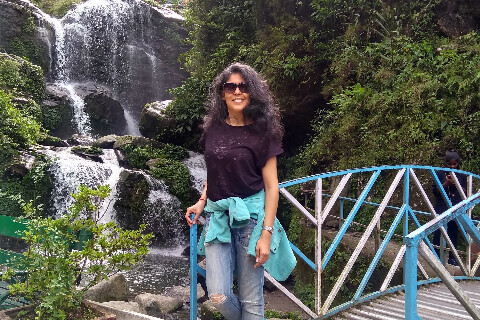 Who is the person—living or dead—you most admire and why?
P.G. Wodehouse. He painted a hilarious, idyllic world with words.
Please provide a current professional bio of yourself.
An artist at heart, and a multidisciplinary designer by profession.
I spent a decade and half with corporate's on the creative side of business, and now have switched over to learning the business side of things by building my consultancy.
I've been fortunate to make a pay cheque of my passion, and now I've got my sights set on wider horizons.
If you could take up another occupation for a day, or a week, what would it be and why?
A wild life photographer, but of course! A nature enthusiast, I'm forever inspired by the outdoors and old as eternity—Mother Nature. Top that off with a love for animals.
How would those who know you personally – family and friends – describe you?
Creative, artistic, rational, balanced, straight forward and adaptable.
A tad shy at first, until the wisecracks twinkle their way into the conversation, and strangely enough analytical and reflective too.
What are the most important qualities that you're looking for in a potential partner?
Calm, stable, sensible, broad-minded or progressive, however you put it, matured, emotionally intelligent, has work-life balance, and happy to see the funny side of life and things easily.
What do you consider essential to a successful relationship?
My CCC formula — Compatibility, coupled with Communication (clear, open, transparent, and authentic) followed by Commitment.
What's your favorite food?
Comfort food: Dahi chawal.
Salads with yummylicious dressings. Thai cuisine, and authentic Indian home food.
What is the last book, movie, or TV series that you enjoyed?
Everything and nothing — a documentary on Prime on the mysteries of the universe.
What other activities or interests do you like making time for?
A good walk always refreshes me, some downtime listening to stand up comedy or TED talks, a little balcony gardening.
What do you enjoy spending money on? What do you not enjoy spending money on?
Enjoy spending on travel and experiences, gifts for loved ones, lending a helping hand to someone genuinely in need, small indulgences for myself.
I don't enjoy splurging needlessly.
What do you think are the most troubling issues in society today? What gives you reason to be hopeful for the world?
We've conquered mountains and oceans, found cures to many-a-ailments but are yet to overcome discrimination — caste, color, creed, ethnicity, nationality, social status, IQ levels, and looks etc. There'll be always enough seeds for division. All we have to do is look beyond them to see that we really are one — humans, animals, everyone, temporary inhabitants on a permanent planet.
List four things that you haven't yet done or experienced but would like to in this lifetime.
1. Travel and experience several of the places on my bucket list.
2. Fly a bi-plane (at least as a co-pilot)
3. Take up fine art for the joy of art.
4. Building a social enterprise that empowers both the community and the planet.
What are you most grateful for? What are things that bring you joy?
My blessings!
A fabulous friend in a mom, support and encouragement from my parents to pursue my passion, my career, and all the good souls who surround me through thick and thin.
Editor's note:
Stay tuned for more interviews and user stories! To find the right partner, at your own pace, visit Jodi365.com or download the Android app.
Want to connect with her? Well, we consciously don't expose Jodi365 users' profiles to search engines or even random visitors to our platform. The only people who can view his profile are registered users who meet his partner preferences. Only one way of finding out! Hop over to Jodi365 and create a thoughtful profile of your own.
Know a suitable man who could be compatible? Send this interview his way. A couple may well thank you at their wedding!
You can also download our app from Google Play Store.