Every country has its own set of festivals which may seem absurd or quirky to an outsider.  Here is a list of 10 such festivals from around the globe.  Read on to see how many you would like to participate in.
1. Floating Lantern Festival, Hawaii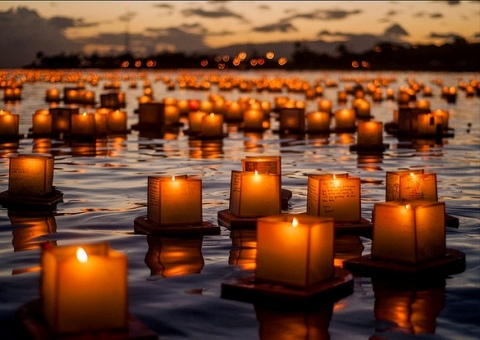 Annually, more than 40,000 people gather at the shores of Oahu island in Hawaii and release lanterns into the pacific ocean, as a gesture of honoring loved ones.   A ceremonial lighting of the Light of Harmony, accompanied by music marks the beginning of the event.  There will be Lantern Request Tents where you can get your own lantern.
2. Kaljakellunta or Beer Floating Festival, Finland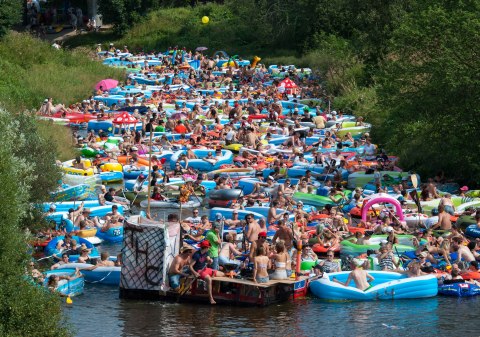 Imagine floating down a river on inflatable boats stocked with cans of beer.  That is exactly what this festival is about.  Even though there is no organizing committee or any fixed date, word gets around, and people belonging to different nationalities make their way to river Kerava inthe  province of Uusimaa.  Kaljakellunta, the Finnish name for the festival, literally means 'beer floating'.
3. El Colacho or Baby Jumping, Spain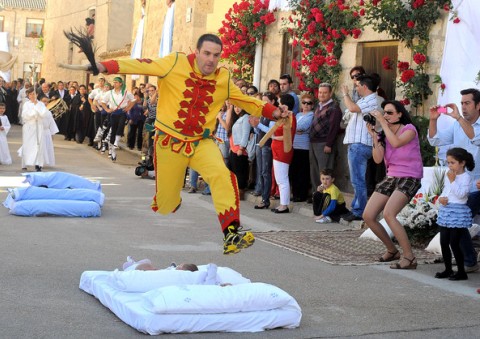 Spain celebrates the Catholic feast of Corpus Christi by organizing the festival of El Colacho.  Men dressed in red and yellow, meant to represent the devil, jump over babies who are made to lie on baby beds in the streets.  All the babies who were born in the previous 12 months are expected to take part in this festival, as it is believed to cleanse them of the original sin that Christians believe all babies are born with.
4. Noche de los Rabanos or Night of the Radishes, Mexico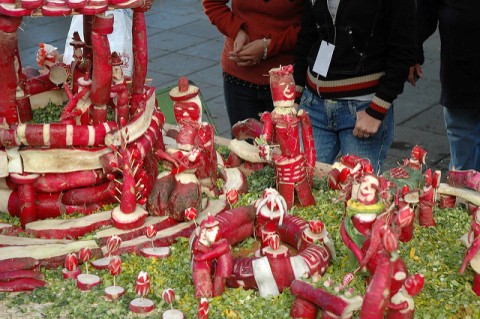 Noche de los Rabanos is an annual radish carving competition that happens in Mexico.  Oversized radishes are carved and arranged to create different scenes.  There are different categories in the competition, offering a variety of prizes.  Since radishes wilt within a couple of hours after they are peeled, be ready to stand in long queues to see the displays.
5. The Pig Parade, Malolos, Philippines
The city of Malolos, Philippines, has a weird custom of celebrating what they call the 'Pig Parade'.  Malolos is the main supplier of pork in Philippines and people dress up pigs, put costumes, and even makeup on them before parading them along the streets of the city.  Local authorities are said to offer free roasted pork to everybody who takes part in this festival.
6. Monkey Buffet, Thailand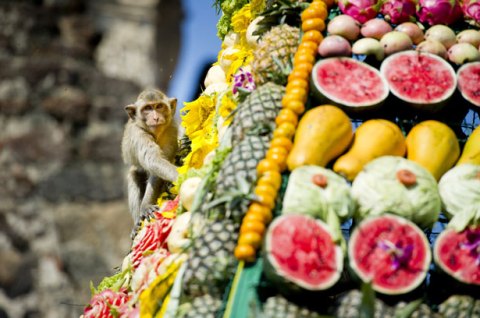 Every year, the Monkey Buffet Festival is held on the 25th of November in Lobpuri, Thailand.  A grand feast comprising of fruits, vegetables, and even soft drinks are offered to the local monkey population.
7. Räbechilbi Turnip Festival, Switzerland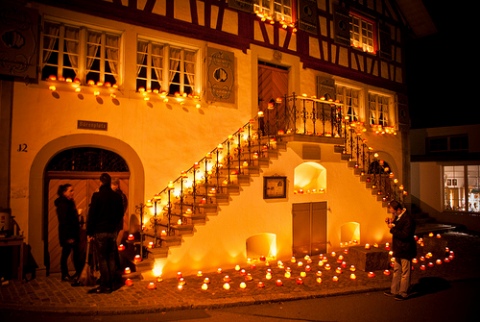 This festival happens on the second Saturday of every November.  Thousands of residents carve lanterns out of turnips and march down the darkened streets of Richterswil.  Houses and windows will also be lit up with these turnip lanterns, adding an air of magic to the beautiful town.
8. La Tomatina, Spain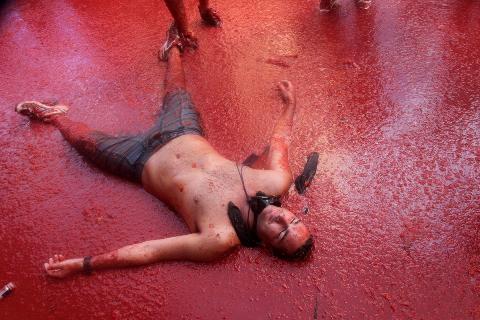 The movie Zindagi Na Milegi Dobara has made the tomatina festival popular among the Indian moviegoers.  Held in the town of Bunol every year, nobody quite knows how this tomato fight originated.  It has become so popular in the recent years that travelers have to find accommodation in adjacent towns and make their way into Bunol hours ahead to be a part of the one-hour festival.
9. Boryeong Mud Festival, South Korea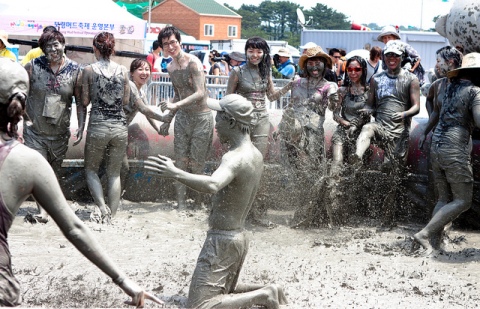 This mud festival takes places during the second weekend of the month of July in the town of Boryeong in South Korea.  It attracts more than 2.2 million visitors every year.  The mud, taken from Boryeong mud flats, is said to be rich in minerals and many a cosmetic company uses it in their products.  The festival began in 1996 to promote the cosmetics are produced using the Boryeong mud.
10. Battle of the Oranges, Italy
Citrus fruits are aplenty in the winter in Italy.  So much so that the Northern Italian town of Ivrea hosts an annual festival called Battle of the Oranges.  To commemorate a revolt that dates back to 1194 when the townspeople of Ivrea rose against a tyrannical count, people divide themselves into 9 groups and pelt each other with oranges (instead of stones).
Editor's note:
You can also read some hilarious clichés related to Indian weddings!