Jodi365 is for quality singles. People have long needed to take our word for it, though. That's because we're big on privacy and don't let random visitors browse profiles on our platform, as if it were a shopping catalogue. However, through this new Spotlight section, we're happy to showcase attractive, accomplished, and authentic single professionals – individuals who are representative of the kind of quality singles you can find on Jodi365. Here's introducing Ambika, a passionate learning and development professional.
---
Introducing Ambika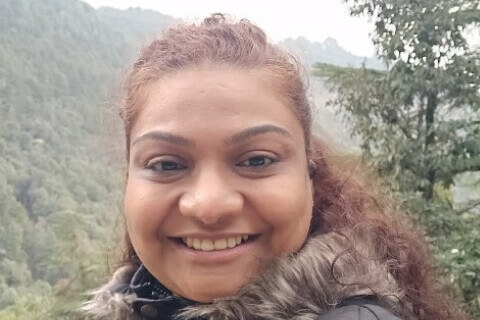 Who is the person—living or dead—you most admire and why?
Ratan Tata – for the person he is, a thorough gentleman.
Please provide a current professional bio of yourself.
As quoted by Mahatama Gandhi, "Live as if you were to die tomorrow. Learn as if you were to live forever."
I am a passionate Learning & Development professional with 12 years of experience in the corporate world. Currently, working with Deloitte as Global Learning Manager for the global financial advisory function business, partnering and leading learning interventions for the APAC and Africa regions. Apart from facilitating leadership and professional programs, I am responsible for designing and developing the global curriculum for restructuring and global economic advisory business units.
If you could take up another occupation for a day, or a week, what would it be and why?
I would like to go back to my first job—teaching, a field that has been very close to my heart. Early on, when I wanted to earn some pocket money, I started to teach kids in and around my locality. I used to teach French, funny as it may sound now, but I don't remember anything about the French language. Teaching gives me loads of happiness, maybe one day I can go back to be just a teacher!
How would those who know you personally – family and friends – describe you?
A very independent person with a mind of her own and knows exactly what she wants and willing to work hard to get it. Prefers to be an introvert, she can come across as serious and intense, but once you know her she is funny too! Adjectives that describe her are creative, practical, compassionate, far-sighted, and helpful. Sensitive and emotional too (but shows that side of her to only a few). Outspoken and speaks her heart. Finds happiness in small things in life.
What are the most important qualities that you're looking for in a potential partner?
A person who is independent, responsible, straightforward, and stands by his values. Respects space and is supportive. Lives and lets live. Mature and helpful. Considerate of people and the surroundings that he lives in and is there for people who seek him.
What do you consider essential to a successful relationship?
According to me, a successful relationship has all ingredients of a good friendship. Trust, open communication, respect for each other, not bringing in personal egos, to step in for each other, and being supportive. Fight for each other rather than against each other and just being there in the background when the other one takes the spotlight.
What's your favorite food?
Anything vegetarian from different cuisines.
Comfort food is rice, rasam, and curd.
A Mumbaikar at heart, so I love chaats. I indulge in Gujarati and Maharashtrian delicacies, Asian cuisine (Kimchi, Sushi, & Chinese), Arabic, Mexican and Italian dishes, and also enjoy fried eggs.
What is the last book, movie, or TV series that you enjoyed?
A book that I have enjoyed is Khaled Hosseini's A Thousand Splendid Suns. I enjoy watching Korean dramas too.
What other activities or interests do you like making time for?
Cleaning the house, gardening, playing badminton, drawing.
What do you enjoy spending money on? What do you not enjoy spending money on?
I like spending money on:
1. Gifts for family and friends
2. Educating someone
3. Flowers
4. Home decor
5. Travelling to places
6. Pampering myself
I don't like spending money on branded products.
What do you think are the most troubling issues in society today? What gives you reason to be hopeful for the world?
There is goodness in everyone. It is just that the situations and circumstances get the worst out of people. Rather than thinking about the issues, I think more about the solutions. For example, plastic is a slow poison in our society. I try to minimize its use in my life. Incorporating small changes in one's lifestyle can also contribute immensely to our ecosystem.
List four things that you haven't yet done or experienced but would like to in this lifetime.
1. Go on the Chadar trek
2. To see the Northern Lights
3. To play the Nashik dhol
4. To ride a bike
What are you most grateful for? What are things that bring you joy?
Grateful for:
1. My parents
2. Good education
3. Life in general
Editor's note:
Stay tuned for more interviews and user stories! To find the right partner, at your own pace, visit Jodi365.com or download the Android app.
Want to connect with Ambika herself? Well, we consciously don't expose Jodi365 users' profiles to search engines or even random visitors to our platform. The only people who can view her profile are registered users who meet her partner preferences. Only one way of finding out! Hop over to Jodi365 and create a thoughtful profile of your own.
Know a suitable boy who could be compatible? Send this interview his way. A couple may well thank you at their wedding!
You can also download our app from Google Play Store.