Jodi365 is for quality singles. People have long needed to take our word for it, though. That's because we're big on privacy and don't let random visitors browse profiles on our platform, as if it were a shopping catalogue. However, through this new Spotlight section, we're happy to showcase attractive, accomplished, and authentic single professionals – individuals who are representative of the kind of quality singles you can find on Jodi365. Here's featuring Neha, an educated and well-read editor of a reputed publishing company.
---
Introducing Neha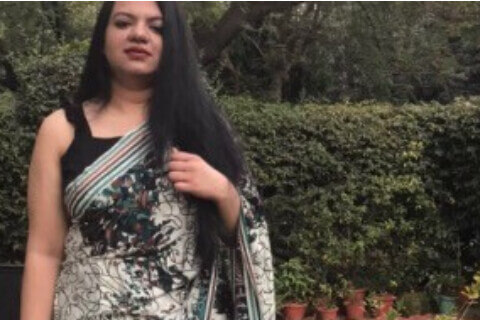 Please provide a current professional bio of yourself.
I am working as an editor with a reputed publishing company.
If you could take up another occupation for a day, or a week, what would it be and why?
I would like to take up the job of an IPS officer. It has been my dream to serve the nation as a cop.
What is the best advice you have received? From whom and why?
Be yourself.
And what is the advice you are glad you DIDN'T follow?
People asked me to not believe in love. I didn't follow them.
How would those who know you personally – family and friends – describe you?
They would say that I am different with different people.
What are the most important qualities that you're looking for in a potential partner?
Loyalty, and a good heart.
What do you consider essential to a successful relationship?
Loyalty and love.
What three accomplishments of yours – personal or professional – are you most proud of?
Tackling various personal issues, loss of a family member, then being a topper in college, and landing a job at the most prestigious company.
I am proud of what I have achieved health-wise too.
If you could acquire a new talent or skill, what would it be and why?
I would like to study criminal psychology.
What's your favorite food?
Anything vegetarian which tastes good. I can also do eggs.
What do you fear? Which of your fears would you say is the most irrational?
Losing the people I love.
What is the last book, movie, or TV series that you enjoyed?
The Gift on Netflix.
What are your favorite childhood memories? What makes them so special?
All the moments in which I had all my family members, many of whom are not there anymore.
I miss myself…childhood self.
What other activities or interests do you like making time for?
Traveling, reading, and trying different outfits.
Among your family members and friends, who are you closest to emotionally? Why?
My mother and sister. They are my rock.
What do you enjoy spending money on? What do you not enjoy spending money on?
I enjoy spending money on things that make me happy.
I do not enjoy spending money on unnecessary things like parlor visits.
What do you think are the most troubling issues in society today? What gives you reason to be hopeful for the world?
I always believe that there is good in this world. That is my hope.
Which aspects of your parents' marriage do you hope to re-create in your own marriage? Optional: Which aspects would you like to avoid?
The fact that my parents worked on their marriage so beautifully. I would love to have something like that.
List four things that you haven't yet done or experienced but would like to in this lifetime.
Love, skydiving, world tour, and loving each moment.
What are you most grateful for? What are things that bring you joy?
I am grateful for my family. Seeing them happy brings me joy.
Editor's note:
Stay tuned for more interviews and user stories! To find the right partner, at your own pace, visit Jodi365.com or download the Android app.
Want to connect with Neha herself? Well, we consciously don't expose Jodi365 users' profiles to search engines or even random visitors to our platform. The only people who can view his profile are registered users who meet his partner preferences. Only one way of finding out! Hop over to Jodi365 and create a thoughtful profile of your own.
Know a suitable man who could be compatible? Send this interview his way. A couple may well thank you at their wedding!
You can also download our app from Google Play Store.