Jodi365 is for quality singles. People have long needed to take our word for it, though. That's because we're big on privacy and don't let random visitors browse profiles on our platform, as if it were a shopping catalogue. However, through this new Spotlight section, we're happy to showcase attractive, accomplished, and authentic single professionals – individuals who are representative of the kind of quality singles you can find on Jodi365. Here's featuring Ms. Desai, a pleasant and passionate freelance designer.
---
Introducing Ms. Desai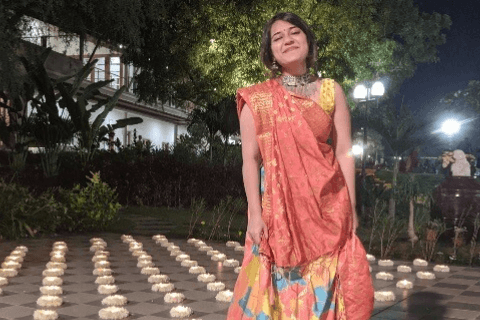 Who is the person—living or dead—you most admire and why?
My mother.
Her cheerful and positive attitude in life, dedication and love for family, and compassion and charity towards all. They have set an ideal for me I can only hope to strive towards in life.
Please provide a current professional bio of yourself.
Research is my passion and I study art, religion, culture, philosophy, and politics. While my ambition lies in an academic career, I am currently freelancing as a multi-disciplinary designer.
I am, above all, driven by the need to pursue meaningful work. This has led me to involve myself in multiple projects at a time. For example, I am also a classical dancer (Bharatanatyam) and a teacher, and I take storytelling and mythology sessions for kids on the side.
If you could take up another occupation for a day, or a week, what would it be and why?
Astronomy! In a research station somewhere in the middle of the Atacama or Antarctica. I've always been fascinated by the ontology of the universe. Researching stars and planets in the middle of nowhere is the ultimate experience.
How would those who know you personally – family and friends – describe you?
A pain in the neck – but with all the love and affection that is the prerogative of near and dear ones. I suppose they'd call me headstrong, rebellious, smart, kind, giving, simple and (certainly not anymore) modest!
What are the most important qualities that you're looking for in a potential partner?
Above all, I'm looking for a friend and a teammate. Someone to grow and take up adventures with. Qualities I admire in another person are integrity, simplicity and intelligence. Also, a healthy respect for all cultures.
What do you consider essential to a successful relationship?
A sense of kinship and family.
Communication is of course the bedrock of any relationship but it becomes useless if there is no compassion and affection for the other.
A firm belief that we are partners building a family unit of our own ensures that we not only get through the rough patches (for there are sure to be many) but also that we are adaptive and continue to grow, both individually and together.
If you could acquire a new talent or skill, what would it be and why?
Learning Jiu-jitsu and Aikido. I suppose there is something to be said about being able to physically defend oneself without having to rely on others to protect you.
What's your favorite food?
I have the mildest of regrets for being a vegetarian, since it grossly reduces all the many dishes I could eat from across the world. But I absolutely love Biang Biang noodles, Korean pancakes, Hotpot… the list goes on.
On the home front, there is nothing quite like good old-fashioned idlis and dosas.
What is the last book, movie, or TV series that you enjoyed?
Oh, so many. But I would certainly recommend the TV series Alias Grace, and more recently, Dash & Lily.
What other activities or interests do you like making time for?
Visiting museums, attending lectures, cultural workshops, and all kinds of theater events (from classical dance and musicals to the Opera).
More recently back at home, on weekends, I visit historic temple sites or stay at home and sketch on my Wacom.
What do you enjoy spending money on? What do you not enjoy spending money on?
When it comes to shopping, there is nothing more satisfying than browsing through the many shelves in a grocery store, a stationery shop or best of all, a book store.
I would like to think I'm frugal in my spending, but I certainly wouldn't hesitate to spend money for my family, or for books, and backpack trips!
What do you think are the most troubling issues in society today? What gives you reason to be hopeful for the world?
Ah, this question is worthy of an essay for an answer.
To be succinct, I think it is the lack of a value ideal, or sense of direction in modernization projects and technological innovation. We as humans have managed to create extraordinary things without clearly understanding and delineating their implications and complexities. Adapting our sociocultural systems to new technologies in a healthy manner is the challenge we face.
What gives me hope is that humans have always, somehow, persisted.
List four things that you haven't yet done or experienced but would like to in this lifetime.
1) Backpack across Europe and Asia.
2) Publish (at least) one book.
3) Surprise my parents with a trip to Africa.
4) Attend a Mumford & Sons concert.
What beliefs or values are hardest for you to accept or tolerate in a friend or loved one?
Being disingenuous in their interactions with friends and acquaintances. It shows a lack of respect for both oneself and others.
What are you most grateful for? What are things that bring you joy?
At the risk of sounding clichéd, I am excessively grateful to my parents every day. For bringing me into this world, for the values they instilled in me, for the example they set for me, for the absolutely brilliant and loving family culture they've fostered.
I suppose I am grateful for the happy chance of birth that has allowed me such nurturing and privilege.
How would you define success? Or a life well lived?
The knowledge, towards the end of our journey, that we've done the best we could and persevered. And that we've managed to maintain a childlike wonder for life and its many experiences.
Editor's note:
Stay tuned for more interviews and user stories! To find the right partner, at your own pace, visit Jodi365.com or download the Android app.
Want to connect with her? Well, we consciously don't expose Jodi365 users' profiles to search engines or even random visitors to our platform. The only people who can view her profile are registered users who meet her partner preferences. Only one way of finding out! Hop over to Jodi365 and create a thoughtful profile of your own.
Know a suitable man who could be compatible? Send this interview his way. A couple may well thank you at their wedding!
You can also download our app from Google Play Store.