Shimmering gold and sparkling stones form a part of every Indian bride's trousseau.  Being the diverse country that India is, it wouldn't come as a surprise to know how distinct and unique the wedding traditions of its people are.  Whether the bride wears a saree, a white gown, or a lehenga-choli, jewelry is an indispensable part of the Indian wedding attire.  If you are getting married soon, or if you know somebody who is about to, here is an essential guide to buying wedding jewelry.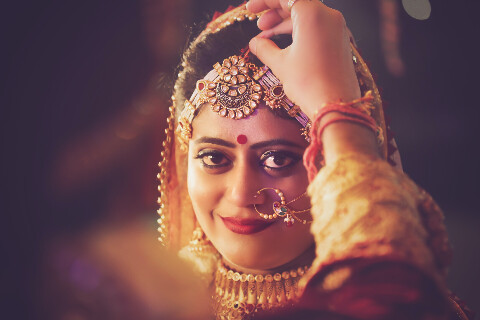 1. Go window shopping
Before you head to a jewelry store and splurge on impulse buying, there are certain aspects to wedding jewelry shopping that you need to be aware of.  Get yourselves acquainted with the latest trends, current price of the metal in question, go to multiple jewelry stores, try on different styles, and compare prices.  For instance, it was only upon visiting a few jewelry stores that my soon-to-get-married friend discovered mix-and-match ornaments.  The pieces come singularly, and you can assemble them and create something new for each occasion.  Think about a necklace that can be worn as a bracelet as well!
2.  Make a list of essential jewelry
It is said in humor that most Indian mothers tend to plan their daughter's wedding even before they begin crawling.  If that is the case, it is likely that she has bought or saved a few pieces of her jewelry exclusively for her daughter's wedding.  Make stock of the items you have and don't have before you decide to buy anything new.  The checklist should include essential pieces of jewelry you will be wearing, such as nath, earrings, maang tikka, baju band, kamar band, bangles, hathpool, necklaces, anklets, and rings.
While you're at it, also consider revamping your mother's jewelry if you feel that they are not chic enough for you style.  If you own an irreplaceable family heirloom piece, it is always better to choose an outfit that would compliment it instead of making changes to its appearance.
3. The question of gold
You may be lured by the yellow shine of gold, but it wouldn't hurt to know that gold is not the only option when choosing wedding jewelry.  For example, there are white, pink, rose, and red gold items in the jewelry market today.  The versatility of gold jewelry is limited, especially when it comes to the ornate kind.  So, avoid buying every piece in gold.  For somebody with a bigger budget, platinum is also an option.  Combinations of these with pearls, solitaires, kundan, and polki, can make your wedding jewelry stand out.
4. Buy with foresight
You may be shopping with just your wedding in mind, however, it would be cost-efficient to think about all the post-wedding events, functions, and parties you will be expected to attend.  This is where the interchangeable jewelry pieces come to your help.  It will help switch between a royal look at your wedding to a more subtle look at a dinner party.
5. Co-ordination with the outfit
You can get your outfit to match your jewelry or your jewelry to match your outfit.  Either way, keep in mind the look you want to sport.  If you already have your outfit picked out, make sure you try on the jewelry with your outfit before buying it.  If it is the other way around, you have the option to incorporate the jewelry design in your bridal dress in the form of motifs and patterns.
6. Traditional or Contemporary?
This would depend entirely on your bridal attire.  If you are a Christian bride and plan on wearing a white gown, a contemporary look would suit you more than a traditional look.  If you're going to be clad in a traditional Kanchipuram saree, nothing goes with it better than temple jewelry.  Both contemporary and traditional jewelry goes with a lehenga-choli.  However, there are no hard and fast rules when it comes to choosing between the two.
7. Keeping the budget in mind
In order to avoid an unplanned monetary crunch, it is advised that you fix a budget for your jewelry shopping.  Insist on a buy-back guarantee at the jewelry store.  Also, get certificates such as GIA and EGL if you are buying gemstones, especially diamonds.
8. Pick a trusted jeweler
The initial window shopping you did would certainly help you out at this stage in finalizing on the best jeweler.  However, do ask friends and family for advice regarding reputed jewelers in town.  Buying jewelry should never be done in a hurry; take as much time as you want in trying them on, asking questions, and clearing all your doubts before you settle on any ornament.
9. Don't forget insurance
Don't toss away your receipts after buying new jewelry.  If you want to get them insured, you'll have to submit the bill, which is a common procedure that most insurance companies follow.
10. Custom-made wedding jewelry
Since a wedding is an unforgettable part in your life, there is nothing wrong in wanting it to be perfect.  You will also be emotionally attached to the jewelry you wear on this special day.  So, you don't have to settle for just any piece of jewelry if nothing catches your eye.  In the event that you are not impressed by what the retailers have to offer, you can always choose to get your wedding jewelry custom-made.  They tend to be more expensive; starting price for custom-made wedding jewelry sets is ₹ 4,00,000 for most designers.