Every bride-to-be recognizes how many pairs of eyes would be on her on her wedding day, and how important it is to look gorgeous on that big day. It is a task that needs planning and some time off your busy schedule, so here are some bridal beauty tips to help you look and feel at your best.
Beauty and fitness goals and a timetable
Begin by preparing a beauty and fitness regimen preferably six or more months before your big day, and stick to it in the months that follow.  Pick a stylist you will be comfortable working with, note down your beauty goals, make regular salon appointments, and re-confirm the dates closer to your wedding day, so that there won't be any hassles on account of some service provider's over-booking of clients.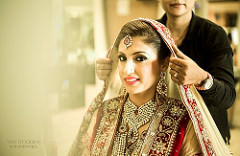 Hair care
Prepping your skin and hair for your wedding day should begin a few months in advance. You will be surprised at how much difference a few extra months of meticulous care can make. When you make your scheduled visits to the salon, give special attention to your hair as well. Splurge a little on a deep conditioning treatment that will fortify your hair, or go for a professional scalp massage. These procedures will guarantee healthy tresses that your stylist can easily work on. While picking the right hairdo, experiment with a few looks, so that you get a better understanding of what suits your face and what doesn't. Rely on the opinion of a trusted friend or relative to give you an unbiased, objective appraisal before you make a decision.
Skin care
Consult a dermatologist, in advance, to tackle potential skin problems. Tending to cracked feet and dry patches of skin cannot begin a week before D-Day. Such problems have to be listed out and tended to, weeks ahead, so that the desired results can be achieved by the time your wedding day arrives. Rubbing olive oil onto your hands and feet and leaving it overnight can work wonders in bringing back the softness of your skin. Mixing a few drops of lavender oil in water and spraying it on your face regularly for a few months, is another beauty secret to help prevent an unexpected pimple outbreak on your face.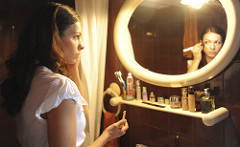 Makeup decisions
Go through magazines and find the look you want to spot on your wedding day. Have a few back-up options in mind, so that with the help of your stylist, you can fine-tune your look, since they know the best that would suit individual skin types and complexions. Have a complete hair and makeup trial run a month before the wedding. It would be a good idea to invite your wedding photographer to take a few shots of you on the day of your makeup rehearsal, so that you get a clear idea about how subtle or harsh your makeup would look in photographs.
While choosing your wedding makeup, make sure you do a patch test before applying any product on your skin. Settle on products a few months before the wedding date and try not to experiment much with your skin, especially as the date closes in.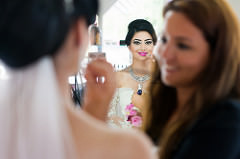 Nail care
During the time between your engagement and your wedding day, relatives and friends are going to want to take a look at your engagement ring and what better way to flaunt your ring than with finely manicured fingernails? So, your salon visits should include regular mani-pedi as well, to keep your fingernails and toenails looking not just healthy but fabulous.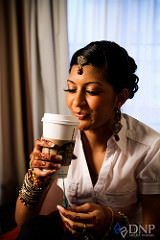 Dental care
Weddings are elaborate events with a gazillion pictures clicked all around you. You'll be expected to flash smiles for the many cameras and it is important that your teeth look good, not just for the day but for posterity. You can either get your teeth professionally whitened, but make sure you do it a week or two in advance so that they don't look unnaturally white, or you could resort to home treatment methods such as patting your toothbrush with some baking soda before you squeeze the toothpaste on, and then giving your teeth a regular brushing, to get rid of any stains.
Nutrition planning
Flawless skin is every would-be-bride's dream and eating healthy is the key to achieving it. Undertake a few detoxing regimens to cleanse your body of toxins. It will diminish your chances of an acne breakout or any surprise breakouts. Avoid crash diets; better yet, consult a dietitian in preparing a sound nutrition plan.  It will also help to ensure that your diet won't be lacking in vitamins or other essential nutrients – known causes of hair and nail breakage.  Also, get into the habit, if you don't have it already, to drink a lot of water to keep your body hydrated at all times.
Sleep and wellness
Don't skimp on sleep.  Most people need seven to eight hours of sleep for all-round well-being.  Anything less than that could result in dark circles, a bride's biggest nightmare. Worse, if you keep racking up a sleep deficit, it will likely add to stress, hamper your judgment, and compromise your immune system.  In the event that you do miss out on a full night's rest occasionally, you can combat puffiness and dark circles with a simple hassle-free home remedy, which you could incorporate into your everyday beauty regimen: Take used green-tea infusion bags that you would otherwise throw away, squeeze the water out of them and toss them into the freezer for about 20 minutes, and then place them on your eye lids for about half an hour. They work wonders!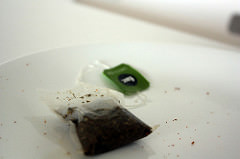 Relax and be comfortable on the wedding day
On your wedding day, what really matters is to look comfortable and confident in the makeup you have always liked and used. You wouldn't want to look like somebody else on your big day, no matter what magic your stylist is capable of conjuring up for you.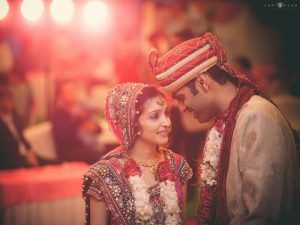 Also, carry your beauty upkeep into your married days, to look just as gorgeous as you looked on your wedding day.  See our general grooming tips for young women.