Part 1.
A love for the gentleman's game
I love cricket.
Like many boys growing up in India in the 80s, surely, I dreamed of playing for India.  I enjoyed opening the batting and Sunil Gavaskar was a boyhood idol.  I was about 12 then.  Of course, when it became obvious, within a couple of years, that if I had to get anywhere in life, it would not be because of any world-class hand-eye coordination or skills with a bat, my life's path took another course, away from the world of sports.
Still, the affliction had not entirely left me.
I got to watch India's nail-biting 1987 World Cup opener against Australia at Chennai's Chepauk stadium, and I still remember the pervasive sense of gloom when Graham Gooch's England swept us out of the semi-finals.
In subsequent years, as competitive as college was, academically, I was not above going late to class occasionally, just so that I could linger in my hostel's common room and take in more of an ongoing cricket match.
I enjoyed playing cricket regularly at IIT-Madras, at the inter-hostel level – 30-overs-a-side affairs on matted wickets – and even earned a call-up to open the batting for the Institute team at the inter-university level.

Image credit: ESPNcricinfo
An enduring memory from that tournament is of sweetly timing a fast bowler's ball through midwicket for a boundary, only to have my stumps shattered by the next ball.  I haven't admitted this to anyone before: That delivery came in so quickly that I don't recall seeing the ball rushing in between bat and pad.
It is just as well that I was more into weightlifting by then – it was hard to haul heavy barbells overhead, but at least I could see the damn things move, when they would indeed move.  I also had the sense to remind myself that I was at best an athletic student, with only occasional delusions of a professional career in sports.
The love for cricket, however, persisted, even as I relocated to the US, by the mid-1990s, for graduate studies.  Those were the early days of the Internet and Cricinfo.com was new on the scene.  It was an easy way, especially for those of us stats-obsessed cricket fanatics, to follow live scores from the convenience of our workstations.  To think that barely 15 years earlier, the only available option at times (as when India played in the West Indies) was to follow All India Radio's audio commentary on a handheld transistor radio.  (I feel ancient just typing transistor radio.  When was the last time you used that in a sentence, if at all?)
Old habits die hard, and to this day I continue to visit the site to follow Indian cricket.  It's a sobering thought as I estimate how much time I may have spent following live scorecard updates over the last 20 years – across Iowa City, Ann Arbor, Seattle, Chicago, and Chennai, without counting site visits while on the road. Cricinfo may have changed hands a few times, but adding to my abiding sense of loyalty is the fact one of its co-founders, Badri Seshadri, was a kind college senior and hostelmate.
The procrastinator in me should be grateful that my passion for cricket has dimmed with time.  It has also helped to be able to see professional cricket today, thanks to the dogged matchfixing and spotfixing scandals and the huge monies at stake in the sport, more as WWE-style entertainment.
But watch I still do, occasionally.
Part 2.
Cricket as religion. Gods and iconoclasts.
After all, cricket wasn't just my love; it was my religion.  Unlike millions of others, though, many of whom would excitedly wave a sign, "Cricket Is My Religion and Tendulkar is My God," Sachin Tendulkar wasn't "God" to me.
He was just someone I admired, greatly, especially for the dignified way in which he conducted himself on the field and off.  When he would stride out to bat, carrying the dreams and expectations of millions of Indian cricket fans, those hopes would include mine.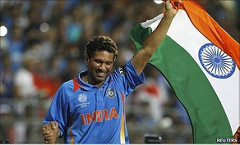 Image courtesy of Guppydas
Case in point: At the time of the 2003 India-Australia World Cup final, I was excited to be able to take in a live telecast, through the night, at a Kiwi sports bar near my apartment in Seattle.  With India set to chase a stiff target, my hopes for an India victory too rested on Tendulkar's shoulders.  However, when he miscued a pull and got out in the very first over, I gave up and headed right home.  It was 4 a.m. and I didn't fancy feeling both sleepy and depressed as I continued to watch.
Time catches up with all.  Even gods retire.  Tendulkar may be transitioning into the role of elder statesman, but fortunately a cricket-crazy country has not had to search far or long for another hero to worship.
Tendulkar's heir apparent, Virat Kohli, has been on a hot streak in recent months.  Even more remarkable than the frequency and pace at which he has been racking up good scores and man-of-the-match awards, is how quickly he is being elevated to the role of demi-god.
Kohli may be cut from a cloth different from Tendulkar's, yet I admire him too, for possibly being the best chaser of targets in the history of the game.  I also see him as being representative, for better or worse, of a new, confident—often brash—India. (Sourav Ganguly and his brazen, bare-chested decorum-be-damned celebration at Lord's, may have been a harbinjer of things to come.)  Cricinfo puts it well when it introduces Kohli, in his player profile, as a typical modern-day cricketer who plays the game aggressively.
Indian cricketers in the past may have been as gifted as he and world-beaters in their own right, at least on their day.  However, not counting the outspoken Gavaskar, most of them were seemingly unwilling, for whatever complex cultural and sociological reasons, to stir the pot.  (Would sociologists like to chime in with their perspectives? and Guha-like historians with recollections of other spirited personalities?)  It brought to mind my own reflections, as a young professional in the US, on the "model minority" template and often wishing that I could just be myself, with all my virtues, warts, and edges, without feeling the need to be a walking, talking, always-on cultural ambassador or a model immigrant in someone else's preferred worldview.
So, when someone like a Kohli comes along, with a decided edginess to his persona, I say, "Power to you!"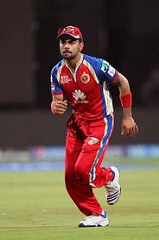 Image courtesy of Royal Challengers Bangalore
Part 3.
Our propensity for cringe-inducing hero worship
If you've read this far, I hope that these would figure in your takeaways: That I enjoy following cricket and admire, among others, Virat Kohli.
Now, wholesome enjoyment of a broadcast match requires quality input in the form of commentary from informed, perceptive minds.  It's bad enough that the monopolistic bully that the BCCI is has not just silenced but effectively banished many a fine, objective, but not-sufficiently-pliable commentator from Indian airwaves. (#BringBackBhogle, anyone?)
Cricinfo and its team of feature writers – including a talented young man whose acquaintance I made through my wife's friend – offered that kind of input, with wit to boot.  Instead of suffering, say, Ravi Shastri's bombastic commentary and tired cliches , I could benefit from the wisdom of the crowd, often shared tongue-in-cheek by a swift-typing text commentary team.
However, Sunday night's live text commentary on the IPL match between Royal Challengers Bangalore and Delhi Daredevils offered a different experience.  Far from objective reports on the match, what I got to digest were fanboyish hosannas.  Let's look at the data.
Virat Kohli took strike for 45 balls, which meant that there were 45 lines of commentary in the RCB innings which began with "<Bowler X> to Kohli."  Of those 45 sentences, as many 18 (40%) included glowing references to Kohli:
0.4 [Ball 4 of over 1, out of 20] …Through the covers for four. Easy peasy.
0.5 …Kohli leaves, that's how good the ball was.
0.6 …Kohli presses forward to defend with a straight bat, ball under his eyes.  Technique on show.
2.1 …Impressive stuff from Kohli, not taking his form for granted.
3.1 …Met with a straight bat from Kohli who drives to mid-off.  Not going through that defence.
4.1 …this is the shot of the day. Wow.  Not overpitched but full. Kohli shuffles across a touch and on-drives with sensational timing.
4.2 …oohs and aahs.  The closest Daredevils will come. […] A thick inside edge just misses the stumps and to the fine leg boundary.
5.3 …Oooooh.  Full outside off, just enough away movement to get Kohli's outside edge.  Bounces in front of Nair at slip.  How badly did Daredevils need that?
5.4 …Back of a length outside off, steered away to third man.  Got on top of the bounce well.
8.1 …superb.  Overpitched outside off, Kohli leans into the drive and times it to absolute perfection.  Past cover for a boundary.
9.3 …Went back again, using the crease well.
9.6 …superb.  Very late cut.
12.1 …easy pickings for Kohli as he flicks to fine leg.  Seems intent on carrying this through.
12.4 …Calmly driven to long-on.
15.2 …Played into the off side with soft hands, done so easily.  Wow.
16.1 …overpitched on leg, gently driven to long-on.  Fluency.
16.3 …fifty for Kohli.  Fantastic, just superb.  A total different innings, more quality.
17.1 …slammed but to deep cover.  What timing.  Full and wide, clobbered cover drive.
Another 18 were more matter-of-fact, as in "driven to long-off."  Only one delivery shone the spotlight on someone other than Kohli:
11.3 Mishra to Kohli, no run, ooh, beauty.  Shortens his length and gets enough rip off the pitch to help the ball go past the outside edge.
One could argue that the commentary was only consistent with the data, which show that Kohli was in control of 86% of the deliveries he faced (39 of 45).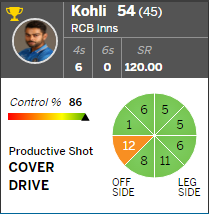 Image source: ESPNcricinfo
I take a different view, in light of the commentators' choosing to share and thereby highlight 28 (!) fawning user comments in the space of about four hours.  Brace yourself as you read on.
At the start of the game:
Rohit:
Hoping that this won't be last game for Kohli in this season !
avanindra shish:
Can't wait for this game to start.  Sorry can't wait for Virat to make a century.  Sorry again can't wait for RCB to win this game….
– Nervous tension all around
RCBfan:
if RCB wins!!  they moves to 2nd spot!!  wow!!!  they are doing what MI did last year!!  and they chase!!  another kohli knock cominggggggg………….
Kashif Shamaz:
A chase, in a pressure cooker match, against a decent DD bowling attack!  We've officially entered into the VK territory…. Hopefully, law of averages sits out this match!
Zeeshan:
The bowling lineup of Delhi doesnt look good enough against likes of kohli and AB.  They should have got Shami in place of J Yadav.
Tarun:
Kohli's fan wanted RCB to remain at number 3 or 4 in the table so we could get an extra game (and a century) for Kohli.  That's not gonna happen now!!
Miku Mayank:
It would be sad for the IPl if RCB gets knocked out tonight, Kohli deserves the trophy.  Big Champ.
During Delhi Daredevils' innings: 
Anshul, after 5.3, when Kohli sprinted about 20 yards and took a well-judged catch:
This guy is phenomenal… #kohlified
kuttima, after 6.2:
Kohli's catch brings back memories of Kapil's catch
Falcon 7, after 6.5:
I dont know "KOHLI" deserves to qualify.
Rakesh Souriraj, after 7.1:
Kohli's eyes when he went for the catch shows how he plays the game.  #Towin.  Champion Player!
harish, after 15.1:
very bad from Delhi…  They are barring Kohli from century by not scoring enough runs…
Indian, after 18.1:
I think even if DD tired hard and put up a total of 150, Considering Virat, Gayle and AB for them it will be a piece of cake to chase it.
During Royal Challengers Bangalore's innings:
Sreenath, after 0.3:
RCB fan – Virat with orange cap, Chahal with purple cap and ABD with most valuable player.. what else you need..??
DanielAlexander, after 2.4:
The untested RCB middle order is exposed, Kohli standing between Delhi and the win 
Vivek Venkatram, after 3.0:
With Kohli and Rahul still out there, RCB have nothing to fear.  This situation will just make Kohli more gritty to get them through.  Isn't he the one who 'relishes' these scenarios?
Rutul, after 8.4:
One aspect of Kohli which has not been praised yet(!), is his ability to decide when to go for the big shots and when to play as an anchor in a partnership!  Great to watch as well as something to learn from, for everyday life too!
Anupam, after 10.4:
"Consistency" must be mighty embarrassed in front of Kohli, he has completely redefined that!!
Anchit, after 11.1:
For kohli, the least we can do is write cover drive as KOver drive
Wasi-GCC, after 11.2:
900 1st man to reach in IPL history.
Callprasad, after 12.5:
Unfortunately we can't see 1 more Kohli century [because Delhi Daredevils, having scored only 138, did not set a high-enough target]
Bharath, after 13.2:
The only way champion batsmen are encouraged to play more better is by allowing them to retain strike by chipping singles.  Watto should be more flexible in running the close singles and allow Kohli to take this cakewalk.
vijay, after 14.5:
What more impresses for me than Kohli's consistency is that his control of shots making…today his control is 88%…such a valuable player
Rahul Godara, after 15.0:
Kohli should be the Unit of consistency.
rakesh, after 16.4:
Kohli got 10 fifties in 14 matches, he missed 4 so made 4 centuries to cover that up
Aab, after 16.5:
Legend.. legend…legend..legend…legggendddd..
WiseGuy, after 17.1:
Binny now has 1100+ runs in 104 T20s.  Kohli may have piled up those runs at the end of just this one season… Take that for the greatness of this fella !!
Harish, after 18.0:
RCB Kohli-fies for playoff.
This word cloud (created using references to Kohli in the commentary) sums it up: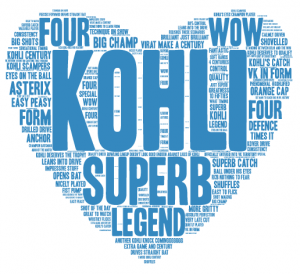 Feel free to call out, in our own comments section below, the Cricinfo comment that caused you to gag the most.  And to think that I logged on to check on the state of what was supposed to be a rare, meaningful IPL match out of 56 double-round-robin ones!
My take: At best, the commentators were fanboys themselves ("Wow"??  Seriously?!); worse, they were pandering to a hero-worshipping audience.
What makes me think that?  Because of the outsized focus on the cricketer, rather than the cricket, as in:
17.3 Khan to Kohli, no run, oh.  Kohli is beaten.  Slower delivery outside off, Kohli misses an exuberant drive and lets out some anger.  Distraught that he missed.
18.1 …there it is.  Slower delivery is pushed to mid-on for the quick single.  Kohli is overjoyed, he is ecstatic.  Pumped as he jumps up in celebration.  Royal Challengers qualify as the second-placed team.
Please, Cricinfo, cut it out!  If you care about not annoying and alienating serious cricket fans, that is.  Ask yourself what you would rather be: A site that caters to cricket fans or to cricketers' fans?  There is a difference.
If it is the former, please glorify the sport and cut out the puke-inducing glorification of routine sporting feats.  Yes, Kohli took a fine catch and played an impressive innings, but by extolling rather than objectively reporting on his performance, your commentary and the over-the-top comments resembled politicians' sycophantic deification of their masters.  You'd do well to take a page from Richie Benaud's stylebook of understated excitement?
Can we simply enjoy a game of cricket without deifying our cricketers, when they do well?  Or tearing them apart when they fare poorly?
Lastly, a friendly, personal note to Virat Kohli:
The vile abuse of mean trolls, when you are down – and there will be ups and downs over the course of what I wish is a long, successful career – will probably be directly proportional to the lavish praise being heaped on you when you are at this high.  Continue to reach higher, but stay grounded!
While we are talking: Thanks for standing up for Anushka Sharma on social media recently and shaming trolls for unfairly piling on her.  You specifically stated no need for respect for the post, which spoke for itself. I can think of no better respect for your cricket than to let your bat – and not over-enthusiastic writers and comment moderators – do the talking.
Editor's note:
It may be time now to tune out sports reports altogether.  Similar hyperbolic reports will continue to be churned out by the media every week.  Don't believe us? Read: The Greatest Sports Critique Ever Published at 2.38 AM.