Here's launching the Jodi365.com blog's latest segment: food!  There's something about food that makes even the most cynical individual a muddling, blubbering, slobbering fool.  We start with a sweet note, as Sandhya Hariharan sends us a delectable chocolate truffle recipe from London.
In Sandhya's own words:
'Tis the season for jingles, glitter, red ribbons, papers crunching, gift wrappers leaving tell-tale signs on the floor.  How quickly a year has passed!  Are we ready to welcome a new year so soon?
'Tis also the season for homemade goodies as people cook for family, friends, and colleagues and their ovens go on overdrive.  I bet there is no other month that can boast of such an overload of cookies, candy, cakes and sweets as much as December can.  The sweet aroma of baking, spices, and sugar wafts through the air, and I think this is as good a time as any to make some delicious chocolate truffle.  It's easy and indulgent and you just can't stop with one!
My first experience with truffle was when a family friend brought us a box of Belgian truffle.  As I took bite after bite, with the cocoa powder and soft truffle melting on my tongue, I was in love!  I'm pretty sure that you will love truffle, too.
What are you waiting for?  Try it out!
---
Ingredients
| | |
| --- | --- |
|  Plain chocolate |  75 gm |
|  Dark chocolate (70% cocoa) |  100 gm |
|  Whipped cream/double cream/extra-thick fresh cream |  75 ml |
|  Vanilla essence |  1 tsp |
|  Cocoa powder |  4-5 tbsp |
|  Icing sugar |  3-4 tbsp |
Preparation
Break the chocolate into uniform pieces
Heat the cream in a milk pan on a medium simmer and bring it to boil, while whisking continuously
Turn off the heat and add the chocolate pieces.  Whisk it until it is blended well.  This mixture is known as "ganache"
Add the vanilla essence to the ganache and stir well
Cover the mixture with cling film (this is done to prevent the formation of a thick crusty layer) and refrigerate it for roughly 1 hour to 1.5 hours, until it sets
When the mixture has set, use a teaspoon or melon scooper to scoop out bite-sized pieces.  Dust your hands lightly with icing sugar to prevent the ganache from sticking to your palm, and roll the scooped ganache into uniform-sized balls
Roll the truffle in cocoa powder and place on a tray for it to set
If you are afraid of hand-rolling the truffle, scoop out the set ganache with a teaspoon or scooper and gently drop it into a plate dusted with cocoa powder.  Use a tea sieve to then dust cocoa on the truffle.
Storing/serving
The prepared truffles can be stored in an airtight container in the fridge.  Dust cocoa powder on them before serving to give them an extra hit of flavor
You could also store the truffle individually in tiny paper cases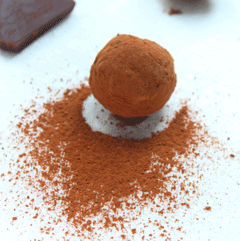 ---
Verdict
My group of tasters did a blind tasting, and enjoyed every second of the slow transformation of flavor from the initial hit of bitter cocoa to the soft, gooey ganache that melts in your mouth.  This is one dessert that is perfect for every chocolate lover, especially if you like dark chocolate.
Kitchen notes
Ensure that you use the best-quality products while making this truffle.  The ingredients play a huge part in the flavor profile of the truffle.  (I used Lindt chocolates and Cadbury Cocoa Powder.)
You could add some jazz to the truffles by using various ingredients.  Some interesting ones are icing sugar, more melted chocolate, and nuts.
You could splash your truffles with some Bailey's Irish Cream or Rum for a liquor-flavored treat.
If you're not a fan of dark chocolate, regular milk chocolate is also a good option.
Images courtesy of Sandhya's Kitchen and reproduced with permission.
Editor's note:
Are you a dessert-lover? Read: 12 South Indian Desserts and Snacks.