Indian men seldom wear suits, unless they are employed at a place where the dress code is strict, or when the situation demands it, such as a business event or wedding reception. Choosing a men's suit might sound like an easy task, but if it has to fit you right and look good on you, it is going to require some effort. So, here are some tips to help you pick the perfect suit.
1. Off-the-rack versus made-to-measure

A ready-made suit picked off the shelf may seem convenient and hassle-free, but if a good fit and durability matter to you, then a suit tailor-made for you is a better bet. Time and money are additional factors to consider, as most tailor-made suits will take at least a few weeks to get made and potentially cost a few times as much as an off-the-rack suit.  Our advice: Invest in at least one good, custom-made suit.  You will make a much better impression when it counts.
2. The style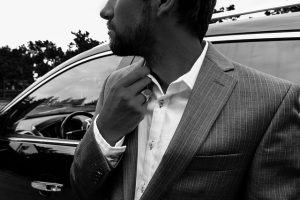 Single breasted, double-button jackets are the safest bet whether it is at your workplace or at a wedding. Other styles would be either old-fashioned or too daring a pick if you are planning on wearing it to multiple occasions. A notch lapel (or step collar as the British would call it), as opposed to a peak lapel, will keep your suit from looking too formal or fancy.
3. The fit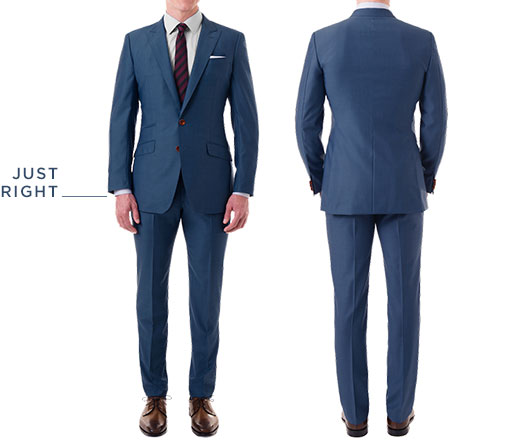 The fit is the most important thing you should keep in mind while picking a suit, especially if you are going for one off-the rack. Try them on with your dress shoes, in your natural stance, with your arms by your side, so that you can make a better assessment of the fit.  Make sure the shop or fitting room has a three-way mirror so that you get a 360-degree view of your suit.
A few other tips:
The shoulder pad should end just where your shoulder ends. They should lie absolutely flat without any lumps or causing any wrinkles along your sleeves. If the shoulders don't fit, there is nothing even a tailor can do to make it fit post purchase, so drop it and move on to another one.
The sleeves should be long enough to reach your wrist. But remember the old-fashioned rule, "a half-inch of linen" rule—half an inch of your shirt cuff should be visible beyond the point where your jacket cuff ends.
Your jacket buttons should close with ease, without any wrinkles radiating outwards.
The length of your jacket is equally important.  It should drape over your rear end and the bottom edge should be parallel to and in line with the middle of your hand when you have your arms relaxed by your side.  The trousers should neither be too tight nor too loose. They should not be too long or too short either. The appropriate length is when the trouser cuffs sit right above the heel.
4. The fabric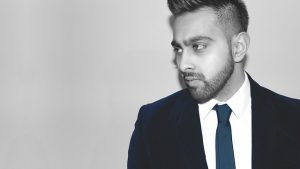 The standard material for suits is wool, but blends of wool are most often used. Avoid going for polyester blends as they are less breathable, especially in India's tropical climate. They also tend to appear cheap compared to their linen and cashmere blend counterparts.
5. The color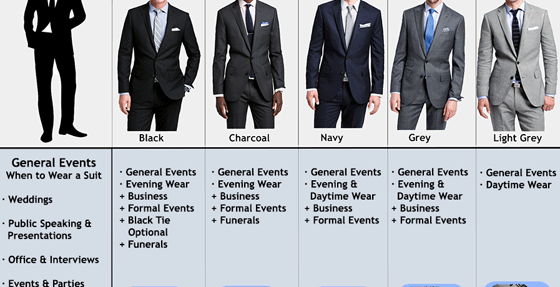 As you can see in the chart above, dark colors are appropriate for formal occasions, such as weddings, business events, general events, and evening wear, while light colors are better left for daytime wear.  Gray, especially charcoal, is the most versatile color out there for suits. It is both conservative and outgoing, matches with many other colors, and fits almost every occasion you could be expected to wear a suit at.
Editor's note:
Want to make a good first impression? Read: Grooming and Personal Hygiene Tips for Men.