Follow the 2014 FIFA World Cup with Jodi365.com and keep track of who's "scoring" and who's just snoring!
It happens every four years: Hundreds of millions of people worldwide shut everything else out and follow their favorite football team in the FIFA World Cup finals.
16 teams have advanced to the knockout stage: Brazil, Chile, Columbia, Uruguay, France, Nigeria, Germany, Algeria, The Netherlands, Mexico, Croatia, Greece, Argentina, Switzerland, Belgium, and USA.
Who do you think is going to win?
Will it be Brazil, the darling of many followers of the beautiful game?  Or will the pressures of being the host nation and one of the favorites be too much for the team?
Will Lionel Messi's magic work at the international level for once, for Argentina?
Will Germany become the first European side to lift the cup in South America?
Or will we see a first-time winner again, as we did in 2010, when Spain won?
The stakes are so high that several teams have left little to chance, even going so far as to forbid their players from having sex for the duration of the tournament.
Does it help?  Well, studies indicate that athletes' extracurricular activities do not affect their athletic performance.
In fact, some would argue, "If it makes you happy, it can't be that bad," or even, "The more you score, the more you score!"
However, the psychological effects of off-field exertions have not been sufficiently studied.
Until that happens, if you need help in placing your bets and want to take this X-factor also into account, Jodi365 has a handy infographic for you: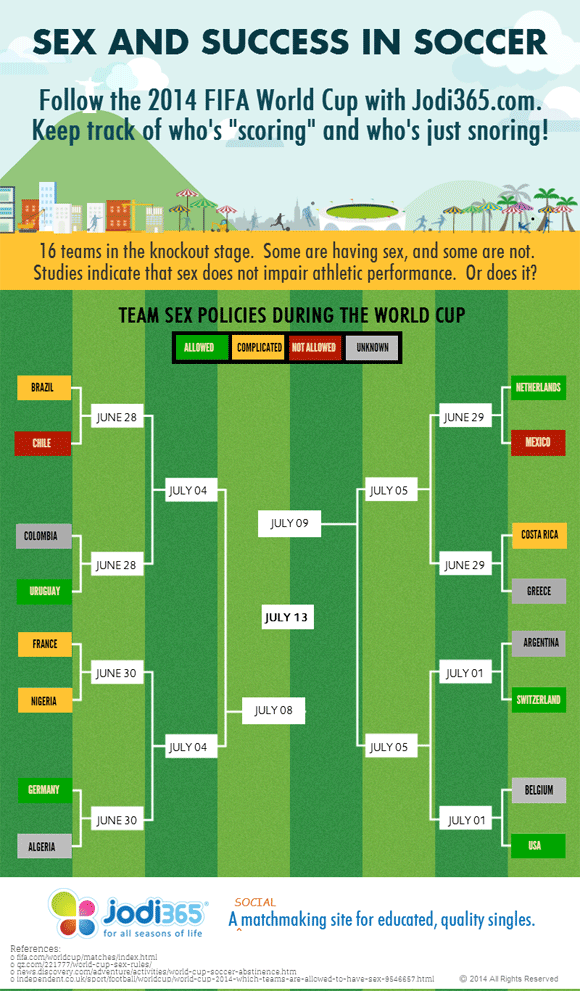 Use this color-coded match schedule as you follow the World Cup.  If nothing else, it may remind you not to make your spouse a football widow(er).  Why, it could even lead to some healthy stress release. 

Editor's note: