It was 5:30 p.m. on a pleasant Chennai evening last month.  A dear, 23-year-old friend of mine was out on a date with her longtime boyfriend, when an untoward incident happened: They were subject to moral policing by a high-handed policeman.  Let me point out that they were out in the open, at a popular public beach, and the sun was still out – not that it should matter even if it were dark.  They were aware that this is Chennai, not Miami, so picture fully-clothed beach-goers, rather than bikini and shorts-clad youngsters.  Moreover, far from doing any hanky-panky, there were not indulging in any public display of affection, what with families, other youngsters, and children around.  Why, they were not even holding hands.  They were just sitting near each other and talking.
They were approached by this uniformed, on-duty policeman who demanded outright that they explain what they were doing together at the beach, how they were related to each other, and whether their parents were aware of their being at the beach together.
This was a first for them in more than three years of their dating.  It was only natural for them to wonder, what is wrong about two consenting adults being out on a date?  While talk of "dating" may have conservatives in India up in arms about "corrosive western influences," fact is that the desire for companionship is universal and Indian society has had its own established courtship rituals long before MTV hit our airwaves.  For instance, have you not known of children being used as carrier pigeons to ferry love notes between smitten neighbors?
If anything, in our collectivistic culture, in which "What would people say?!" matters, subtlety has been a virtue and many a romance has blossomed in secret.
Guess what?  It is 2016 and we are living in a global village, such that the concept of dating is not taboo among young adults in Tier 1 and even Tier 2 Indian cities.  In the Indianized version of dating, today, dating may be widely viewed as a station on the way to matrimony.  However, that does not give anybody the license to question what a couple's intentions—whether short-term or long-term—or the extent of their commitment may be.
Returning to the friendly neighborhood policeman: Not content with the polite answers to his questions, he ordered my friend and her partner to leave the beach.  When asked on what grounds, he threatened to confiscate their phones to inform their parents.  Not wanting to create a scene, they left quietly.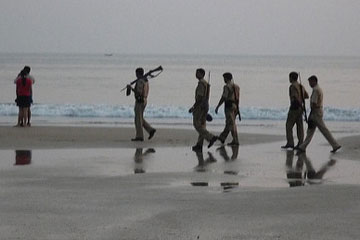 Would you rather have police officers evoke a sense of security among young couples, or be seen as a menace that preys on them and, as is often the case, demands hush money?  (Upon learning that I was working on this article, a colleague talked about being similarly accosted when he and his then-girlfriend – now wife – were parked by Marina Beach and having some snacks inside his car, with one door open.  300 rupees is what he coughed up to the harassing cop, only because he and his girlfriend were not ready to announce their relationship to family and didn't want the situation to get escalated.)  What gives khaki-clad cops, or any self-proclaimed defender of "Indian values," the right to trample on a couple's rights to peaceful public assembly?
You would have thought that this was a couple dating in hyper-conservative, Taliban-run Kabul and not "cosmopolitan" Chennai.  Lest we forget, Chennai is one of the top five cities in India, both in terms of size and population. Popularly known as the land of temples and filter coffee, Chennai is also the largest cultural, educational, and economic center in south India.  Arguably the Indian metro that offers the best quality of life, it was the only Indian city to feature on The New York Times' list of 52 Places to Go in 2014 (it was #26), on Lonely Planet's list of Top Ten Cities for 2015 (#9), and National Geographic's recent list of the Top 10 Food Cities (#2) in the world.
Let's get this right: I can have my finger inked and decide who gets to run the country, but I can't be out with someone holding hands?  We have the choice today to swipe right or left—again with that same finger—and decide whom to date, but it all has to be hush-hush?!  If that's how you feel, let me show you another finger!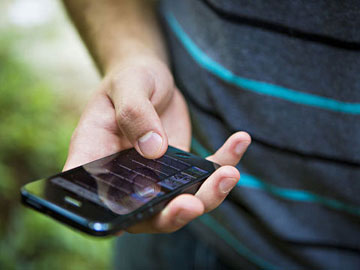 At Jodi365, we understand that young adults like to hang out with friends and meet dates at cinemas, malls, restaurants, cafes, clubs, and other public spaces.  We'd rather that they spent time together in the relative comfort and secure environs of such places than be compelled to seek out more private but less-safe options.
To that end, here is a compilation of some suitable dating places in and around Chennai that you can go to, hopefully in peace!  Do write in with your thoughts, especially if you have a run-in with the moral police.
Chennai Dating: Sites to See and Places to Take in
1. Huddleston Gardens of the Theosophical Society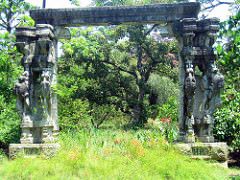 A vehicle-free haven in the midst of the bustle and mayhem of Chennai city, Huddleston Gardens of the Theosophical Society in Adyar offers a romantic date place for couples who wish to wander along its pathways, marveling at the 450-year-old banyan tree, the lush emerald-green flora, and bungalows from the colonial era.
2. Catamaran Ride on the ECR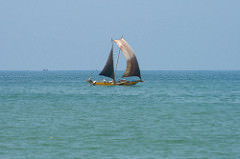 Breaking a sweat together is said to turn up the heat in relationships. What better idea for an adrenaline-pumping date than getting on a catamaran with your loved one and heading two kilometers into the sea? Put your life jackets on, take a plunge, and float around in the middle of the seemingly bottomless sea. Make sure you find an organization with an official sanction and follow their safety instructions.
3. Dinner at Mahabalipuram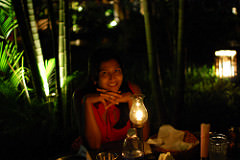 Date night at a cozy restaurant in Mahabalipuram has an undeniable romantic allure to it. The popular sea-facing places are dimly lit with fairy-lights and candles, setting the mood for the evening. Bond over some good food and anchor your relationship with the sea by your side.
4. Pulicat Lake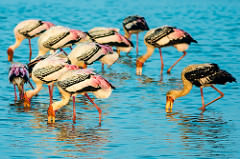 Take your date on a 100-kilometer ride from Chennai to see flocks of pink flamingos along the vast stretches of bluer-than-blue waters of the Pulicat Lake. For more rare bird-sightings, take your partner out on a boating expedition on the shimmering lagoon waters of the Bay of Bengal.
5. Vedanthangal Bird Sanctuary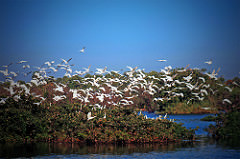 This is an ideal date destination for nature and bird-loving couples who want to soak up the serene atmosphere of this bird sanctuary, about 75km from Chennai. Better still, if you are photography enthusiasts, Vedanthangal offers a diverse variety of migratory birds and beautiful backdrops for that perfect shot.
6. Dakshinachitra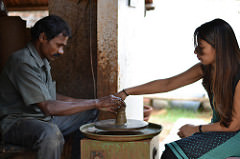 A small heritage village recreated to depict the traditional South Indian folk art and craft, architecture, and lifestyle, Dakshinachitra provides an ideal date spot for couples who wish to immerse themselves in some South Indian history. You can also get a taste of various authentic South Indian cuisines that are markers of an illustrious past.
7. Elliot's Beach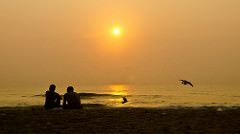 Elliot's Beach or Besant Nagar beach as it is popularly known, is an ideal couples' hangout with multitudes of restaurants and cafes that cater to every palate. Re-live childhood memories by playing in the water or splitting a cotton candy, or get cozy on the not-so-giant ferris wheel which gives you a beautiful view of the sea stretching endlessly in front of you.
8. Alamparai Fort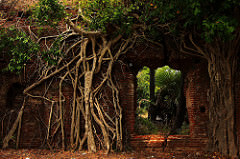 Remains of an old fort from the Mughal times with a spectacular view overlooking the lagoon and the Bay of Bengal beyond, Alamparai Fort is a beautiful place for a date. The otherworldly air around the fort will give you the feeling of having time-traveled.
Featured image courtesy of Kannan B, via Flickr
Editor's note:
You can also download our app from Google Play Store.