The Indian cuisine is just as diverse as the people of India. These different types of flatbreads will give you an idea about how the culinary choices of people vary from one region to another.
1. Chapati/ Roti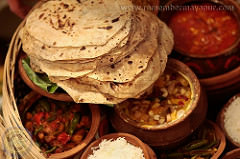 Chapati or roti is an unleavened flatbread consumed all over the Indian subcontinent. The dough is made by mixing ground Indian whole wheat flour, water, and salt. It is then rolled out into circles and cooked on both sides on a pre-heated tawa (skillet) or put directly on an open flame to puff them up. It may be brushed with vegetable oil or ghee and served hot alongside a spicy accompaniment of vegetable or meat-based curry.
2. Naan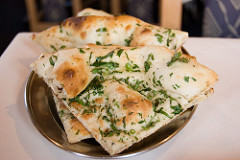 Naan is an oven-baked flatbread found mostly in South Asian cuisine. Made by combining flour, salt, and yogurt, it is leavened using yeast and cooked in a tandoor (coal-fired clay oven). Varieties range from garlic or butter naan to ones stuffed with fillings such as mashed potato or finely ground meat (kheema).
3. Phulka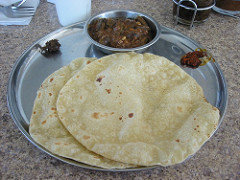 Phulka is a thinner, easier to digest Gujarati version of roti, served with Gujarati dal or any other vegetable curry.
4. Paratha/ Parantha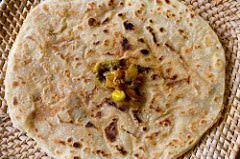 This popular unleavened Indian bread is also made from whole wheat. But in this case, the dough is first rolled out and folded repeatedly by coating with ghee. It is rolled out again before cooking both the sides on a tawa. Stuffed parathas have different types of filling – spiced potatoes, cauliflower, paneer, mint, radish, lentils, sometimes even meat. They are served hot with a dollop of butter on top. Parathas are usually eaten with chutney, raita, tomato sauce, pickles or any Indian vegetable or meat curry.
5. Rumali roti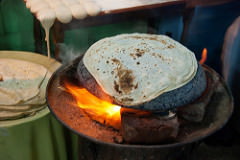 Part of the traditional Punjabi cuisine but now popular among many regions in India and Pakistan, rumali roti is a thin, cloth-like flatbread which is usually folded like a handkerchief when served. The dough is made by mixing both whole wheat and white wheat flours. It is usually flattened not using a rolling pin but by tossing it from one hand to the other. Rumali rotis are cooked on the convex side of a kadhai, an Indian griddle and are served with spicy Indian curries.
6. Thepla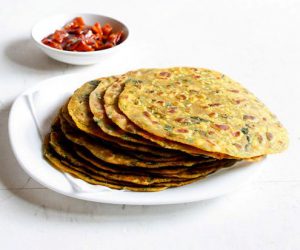 Thepla is a Gujarati aromatic flatbread made by combining wheat flour, fenugreek leaves, chopped coriander leaves, curd, ginger-garlic paste, red chili powder, turmeric powder and coriander powder. Unlike rotis which are bland, theplas are lightly spicy. Both rotis and theplas are cooked on a pre-heated tawa and coated with oil.
7. Kulcha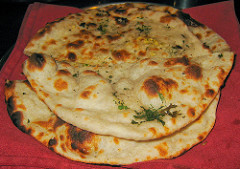 Usually eaten with a spicy chickpea curry, kulchas are leavened bread made from wheat flour. It is a typical Punjabi bread which is rolled out and baked in a clay oven. They are also favored as a breakfast item in parts of Pakistan.
8. Jolada Roti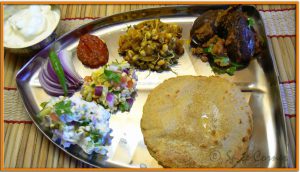 Coarser than a roti in texture, Jolada rotis are staple in North Karnataka and the bordering Maharashtra area. They are usually eaten with chutnies or other pulse-based curries.
9. Pathiri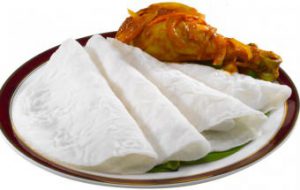 From the Malabar region of Kerala, this unleavened flatbread is made from rice flour and water. Rolled out into thin circular sheets, they are cooked on a tawa with a dash of oil. Pathiri is usually served with either a spicy chicken or mutton curry.
10. Puran Poli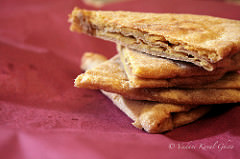 Popular in Maharashtra as well as the rest of South India, puran poli is a sweetened flatbread. It owes it sweetness to the lentil and jaggery filling. In Marathi, this sweet filling is called puran and the bread itself is called poli.
11. Parotta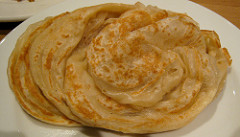 Made from bleached wheat flour commonly known as maida, parotta is a layered flatbread popular across Kerala, Tamil Nadu and Karnataka. The dough may be enriched with egg or milk and is beaten into thin layers before being shaped into a round ball. It is later rolled out, roasted, and served with a vegetable or meat curry.
12. Dodo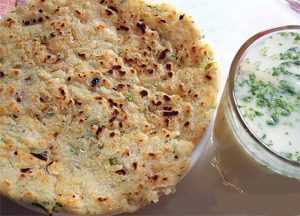 Dodo is a sticky, lightly spicy flatbread made from rice flour, chopped onion, coriander and green chilies. It is a typical Sindhi recipe. Dodos are usually served with dal or any other vegetable curry. Unlike most of the other Indian flatbreads, dodo is not rolled out using a rolling pin. It is patted with the palms to form a circular shape before being cooked on a tawa.
13. Koki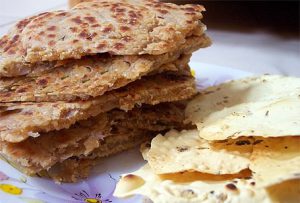 Koki is another Sindhi flatbread. But a koki is made from wheat flour. Chopped onion, green chilies, coriander, and cumin seeds are added to the dough. It is flattened using a rolling pin and slightly roasted on a pre-heated tawa. It is then taken off the tawa and rolled again until it become as thin as a paratha. The half cooked koki is then put back on the tawa and properly cooked on either side. It is served hot with yogurt or pickle.
Editor's note:
How well do you know Indian Sweets and Snacks? Read: 12 South Indian Sweets That North Indians Don't Know They Are Missing.