Love to order pizzas online and wish it were on the menu more often? Here's a recipe for how to make pizza at home in minutes!
My very first recipe for 2012 is Pizza Pie.  It is an excellent party starter, is easy to make (takes just minutes!), can be cooked afresh or from leftovers, and is sure to leave your guests drooling!
Ingredients
| | |
| --- | --- |
|  Puff pastry block |  200 gm |
|  Tomato slices |  8 |
|  Black olives |  Handful |
|  Cheddar cheese – grated/sliced |  2 slices |
|  Tomato salsa |  2 to 3 tbsp |
|  Dried basil |  1 tsp |
|  Mint leaves |  To garnish |
This measurement yields three pizza pies.
Preparation
Preheat the oven to 180 degrees celsius.
Unroll the pastry block and cut them into three equal rectangles.
Lay the pastry rectangles on the baking sheet and spread the center with tomato salsa or tomato puree, leaving one-fourth of an inch around the sides.
Arrange the toppings — cheese, thinly-sliced tomatoes and black olives. Sprinkle a pinch of dried basil all over.
Bake for 15 to 20 minutes until the pie edges have risen and turned a little brown.
Remove from the oven and allow to cool for 5 minutes.
Garnish with mint sprigs and serve hot.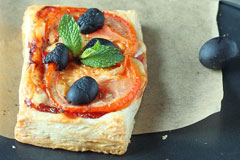 Kitchen notes
Do not sprinkle whole-wheat flour / chapatti atta for unrolling the pastry block. This is a show stopper in the pie preparation. The puff pastry does not rise and remains flat to a certain extent.
Images courtesy of Sandhya's Kitchen and reproduced with permission.
Editor's note:
Check out this list of delectable sweets and snacks : 10 South Indian Sweets and Snacks that North Indians Don't Know They Are Missing!