Not everybody who ventures on to the silver screen grew up believing it to be their destiny. Here are 10 actors who were headed on a different career path before breaking into cinema.
1. Parineeti Chopra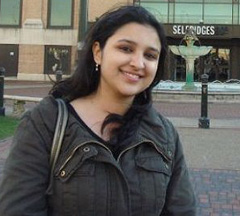 Parineeti Chopra (born October 22, 1988) is undoubtedly one of Bollywood's most qualified professionals. She has a triple honors degree in finance, business, and economics from Manchester Business School. Her ambition was to become an investment banker, but she returned to India during the 2009 economic recession and, thanks to an introduction from her cousin and A-lister, Priyanka Chopra, she took up a marketing and PR job at Yash Raj Films (YRF).  Despite having a relative in the movie business, she never fancied a career in acting.  However, while at YRF, interacting with actor clients and seeing the process up close, she felt that acting was something she too could do well.  An unexpected invitation soon followed for a screen test and before she knew it, she landed a three-film deal with the renowned studio.
2. Melanie Chandra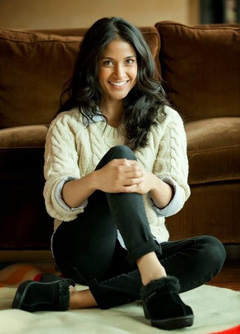 Melanie Chandra, nee Kannokada (born February 28, 1986) is an American model and actor of Indian origin and the perfect example of beauty with brains. She earned a degree in mechanical engineering from Stanford University and worked for a while at McKinsey and Company, but left the company to pursue a career in modeling and acting. After all, she had won the Miss India America contest towards the end of college itself (in 2007). She landed her first lead role in films in 2012, with Love, Lies and Seeta, an Indian-American comedy.  She was nominated for Best Actress at the World Music and Independent Film Festival in the same year. She can be seen in recurring roles in a variety of television productions, as well as on the covers of international fashion magazines.
3. Nivin Pauly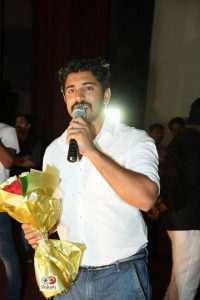 Nivin Pauly (born October 11, 1984) was an IT engineer in Bangalore until 2008.  After graduating with a degree in Electronics and Communication Engineering from Federal Institute of Science and Technology, Kerala, he took up a job at Infosys and worked for two years before calling it quits to pursue his dream of becoming an actor. He auditioned for a role in Malarvaadi Arts Club, but was not among the final 12 shortlisted actors.  However, when one of the shortlisted actors dropped out, he got a second chance and went on to win the role.  Some movies later, his 2012 release, Thattathin Marayathu became the biggest hit of the year and he had truly arrived.  Just about every subsequent film has been a success and he is considered to be one of the biggest stars in Malayalam cinema.
4. Ameesha Patel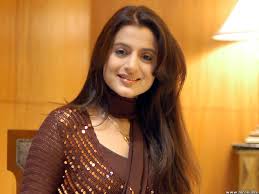 Ameesha Patel (born June 9, 1976) has many accolades to her name apart from being one of Bollywood's top actors. She was the headgirl at Cathedral and John Connon School in the year '92-93 and left for the United States shortly after finishing school to study bio-genetic engineering. She soon switched to Economics and graduated with a gold medal from Tufts University. She began her career as an economic analyst at Khandwala Securities.  However, she did not find the work satisfying and developed an interest in acting.  Upon returning to India, she joined Satyadev Dubey's theater group and acted in many plays. It helped that her father's schoolmate, Rakesh Roshan was interested in her starring in the lead female role opposite his son Hrithik Roshan's debut movie, Kaho Naa… Pyar Hai (2001).  The film was a huge success and catapulted her into fame.  Her next release, Gadar: Ek Prem Katha (2001) turned out to be the biggest hit of the year, establishing her as a rising star.  A decade later, the industry veteran has moved into production while continuing to star in big-banner movies.
5. John Abraham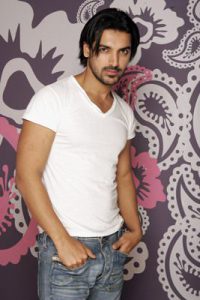 John Abraham (born December 17, 1972) is another highly qualified professional, who would have ended up in the business field if his modeling days had not led him to the film industry. He earned his bachelor's degree in Economics (Honors) from Jai Hind College, Mumbai, and went on to receive his MBA from Mumbai Educational Trust. He worked as a media planner for Enterprises-Nexus and became a model by accident, when a model failed to turn up for a shoot and John's boss asked him instead to fill in.  That led to more modeling assignments, but the big break came in 1999, when he entered and won the Gladrags Manhunt modeling competition.  It took him to the Philippines for The Manhunt International, where he finished as the first runner-up.  A whirlwind of international modeling assignments followed, out of Singapore, Hong Kong, London, and New York and in between he also starred in a few music videos.  When he returned to India, he not only had a substantial portfolio but also began landing plum assignments, such as being the first Asian model for Levi's.  He began doing TV commercials also and, by 2002, established himself as the highest-paid male model in India.  He didn't fancy a career in acting until it happened, when he began receiving offers.  The first view projects were shelved, but his very first release, Jism (2003), a provocative erotic thriller caught the public's eye.  It wasn't until several films later, though, that he finally arrived, with a key negative role in Dhoom (2004).  It was one of the biggest Bollywood grossers of the year and set him on the path to becoming a bankable star.
6. Ajith Kumar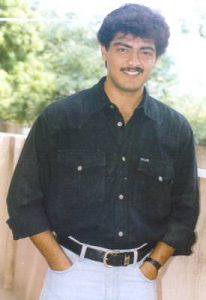 Ajith Kumar (born May 1, 1971) flunked high school, but did not let it bother him.  After all, all that he wanted to do was race motorcycles for a living.  His passion for racing led him to apprentice at a mechanic's shop.  So that he could make more money to spend on his motorbike, he went on to work at a garment exporting company and even set up his own merchandising business.  Concurrently, thanks to the nudging of friends, he took to modeling, part-time, to supplement his income.  His business failed but a chance sighting of his modeling portfolio, by a Telugu director searching for a young male lead for his new movie, led to a screen test.  With no pressure of chasing a dream in movies, Ajith went to the screen test as if it were a picnic and aced it.  However, the movie stalled when the director, Gollapudi Srinivas, was swept away by waves at a seaside cliff during filming.  Meanwhile, spotted as he was, he also landed a role as the young male lead in a Tamil movie, Amaravathy (1993), which became his debut release. The movie didn't make a big splash and his racing career wasn't going anywhere, either, what with a couple of falls damaging his spine and requiring corrective surgery.  Determined then to become successful in cinema, he persevered and landed a role, fittingly, as a hospitalized patient, in Pavithra (1994).  That led to a role in his breakthrough movie, the Mani Ratnam-produced Aasai (1995), after which there was no looking back.  He is one of India's highest-paid movie stars today and his fan following is such that he is known in the Tamil film industry as the King of Openings.
7. Madhavan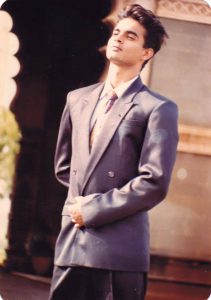 Born in Jamshedpur to Tamil parents, Madhavan (born June 1, 1970) aspired to join the armed forces.  However, he missed the age bar by a couple of months.  After earning a degree in electronics, he worked as a spoken-English and personality development tutor.  Upon being goaded, thanks to his charming personality, to take to modeling, he went on to get a break in movies.  His breakthrough movie was the Mani Ratnam-directed Alai Payuthey (2000).  It did not take him long to woo audiences across linguistic and cultural borders.  He is the rare South Indian male actor to have a market in Hindi cinema as well.  Following the mega success of 3 Idiots, in which he not only played a lead role but also was the narrator, he became the face of many a pan-India brand.
8. Nagesh Kukunoor
Nagesh Kukunoor (born March 30, 1967), known for directing and acting in his works in parallel cinema, comes from an admirable academic background, having received his bachelor's degree in Chemical Engineering from Osmania University and master's degree from Georgia Institute of Technology. He worked as an environmental consultant in the US, simultaneously attending film workshops . He used his savings to fund his first movie Hyderabad Blues, which he directed and also acted in. Hyderabad Blues was featured at international film festivals and became a cult classic, paving the way for his film career.
9. Mammootty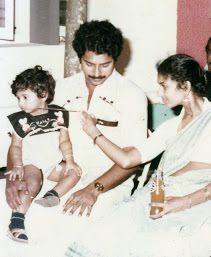 Not many people know that Mammootty (born September 7, 1951) was a practising lawyer before he became an actor. He graduated with a law degree from Ernakulam Law College and practised in Manjeri, in the Malappuram district of Kerala for a few years before giving in to his heart's desire of becoming a movie star. A struggling actor in the '70s, he had to take his wife Sulfath to the sets of Mela to make her believe that he was, in fact, an actor. However, his acting ability was such that, by the early-'80s, he was not only a critically acclaimed actor – he is the recipient of three National Awards for Best Actor – but also one of Malayalam cinema's two biggest superstars (along with Mohanlal).
10. Charuhasan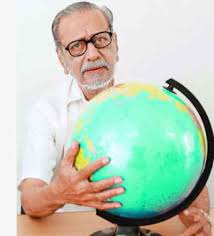 Charuhasan (born January 5, 1931) may be better known as the elder brother of one of India's acting greats, Kamal Haasan.  What many don't know about him, though, is that he was originally an attorney who practised criminal law for 30 years.  Even more incredible is that, for someone who made his cinematic debut at the late age of 48, he went on to receive a National Award for Best Actor.  He acted in over 120 films in Tamil, Malayalam, Kannada, and Telugu.
Editor's note:
Check out this list of films that showcase offbeat and unforgettable weddings: Six Cool Wedding Ceremonies in Indian Movies.