Notice how some moments get etched in our memories?  Here's one that got etched in mine a long time ago.
It was my 10th or 11th birthday, and I was on my way to school with one of my brothers.  At the bus stop, we noticed an older schoolmate and began chatting with him.  I merrily opened the customary box of toffees that I was carrying, to offer to classmates, and let this friend have the first one.
It must have been about 7:30 in the morning.  We were standing outside a neighborhood convenience store, which was getting started for the day, while a nearby hole-in-the-wall cafe was already humming with activity.  I recall being impressed with the coffee-pouring skills of the barista at that cafe's entrance.
Think these street-cafe skills are amazing? They're quite common in India.
While we waited for our bus, another bus came to a stop in front of us.  The morning calm was rudely disturbed by the sounds of a couple quarreling inside the bus.  The woman acted like she wanted to break free of the considerably older, tipsy man, who followed her as she made her way across the length of the bus and got off.  He got off after her and grabbed and pulled her.  She cried, screamed, and resisted.  He seemed frail, but was still stronger.  She clearly didn't want to be with him.  Yet, he dragged her back into the bus.  The rest of us, on the sidewalk and in the bus, must have numbered at least 20, but nobody said or did anything.
What would you do if you saw someone being harassed?  What if the harasser claimed to know the victim?
The bus driver moved on, as if he had made just another stop, but the memory of that stop remained.
---
Years later, the incident came to mind as I came across Elie Wiesel's quote:
We must take sides.  Neutrality helps the oppressor, never the victim.  Silence encourages the tormentor, never the tormented.
I got to experience firsthand, in a similar situation, how taking sides can empower the oppressed.  This was while being driven through a dense Chennai neighborhood about 15 years ago.  (I was then a bona fide NRI, getting used to being treated as a tourist and guest in his very hometown.)  It may have been dark, but I could see a man arguing with a woman, whom he had pinned against a wall, and slapping her.
I had the car brought to an abrupt halt and rushed out to intervene.  Perhaps unwisely, I restrained the stranger and, with finger wagging, forcefully said, "Don't do that!"  Within a minute, several other bystanders converged upon us and the woman began to pour out her woes – how the good-for-nothing guy would often get drunk and snatch her earnings.  Emboldened by the group intervention, she even began thrashing the man.  I had to tell her that her raising her hand wasn't okay, either.
How to overcome the bystander effect and help someone who is being harassed or being taken against their will.
With some sense of normalcy restored, the crowd began to disperse.  What was disturbing, though, was to hear someone share his understanding of the situation: "They are not married but are in a live-in relationship."  Not only was the tone judgmental, but also I couldn't see how a relationship status could condone physical assault.
Fast forward another 15 years, to just a few months ago.  I got to hear something similar from a cop on duty!  I approached the cop after witnessing a drunk – there we go again – landing a kick on a woman just yards from me.  It was on the sidewalk of an arterial road, in a business district, in broad daylight.  The cop was outright dismissive and set on standing his ground at the entrance of a government building, rather than being open to walk some 100 feet with me and at least give the drunk a warning.
As I passed the agitated drunk on my way back to work, he began to threaten me.  Refusing to back down, I whipped out my smartphone and proceeded to take his picture.  (Much as I may miss my 2007-vintage Blackberry, I was again glad that my wife persuaded me to retire it and upgrade to a smarter, camera-equipped smartphone.)  I could forgive him for not cooperating, but it was hard to understand that a law-enforcement officer would continue to be dismissive of the escalating situation.  "You don't know squat," he lectured me (in Tamil).  "These people fight and create a scene in the day, but come night time, they patch up and get drunk together.  You should mind your own business."  In hindsight, I should have taken his picture too or at least noted the name on his badge, the disgrace that he was to his uniform.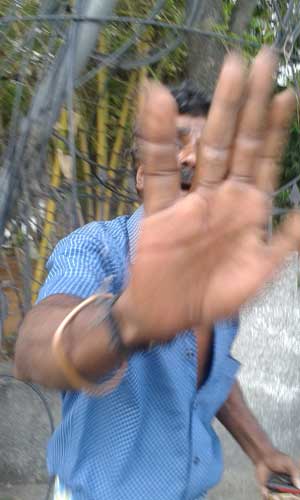 Picture my pleasant surprise, then, upon reading about someone's getting an Indian cop to act promptly on a harassment complaint.  Coming in the wake of months of unabated reports of attacks against women in India, the story was indeed heartening.
It gave me more food for thought, but that's for another post.
Editor's note:
Moral policing has been on the high in many cities lately.  If you are dating in Chennai, read: Minefields To Navigate And Places To Visit.