President Clinton took the stage last night at the Democratic National Convention and gave a rousing speech in support of President Obama's re-election this fall.  The master politician that he is, he not only threw one zinger after another at the Republican party, but also had his own party's base eating out of his hands with statements like:
"And by the way, after [Michelle Obama's speech] last night, I want [to nominate for President] a man who had the good sense to marry Michelle Obama."
What the Charmer-in-Chief didn't know, unfortunately, was that all is not well between Barack and Michelle Obama.
Just three months ago, Edward Klein's unauthorized biography, "The Amateur: Barack Obama in the White House" claimed that Michelle Obama went as far as having divorce papers drawn up in the wake of Barack's defeat in a house race in 2000.  It was also barely two years ago that she again threatened divorce, this time if President Obama stood for re-election.  Apparently, the stress of another election campaign, the President's taking to chain smoking again (which the First Lady detests), and the First Lady's de-stressing through shopping sprees (which the President can't keep up with) have been taking a cumulative toll on their relationship.
Sources inside the White House say that it is the President now who has been tuning out of the marriage.  In fact, we are also in possession of exclusive, not-seen-before logs (see image below) of a visit to Jodi365.com from the Executive Office of the President in the White House.  (Barack Obama has been quite taken lately by the idea of an attractive, intelligent desi partner.)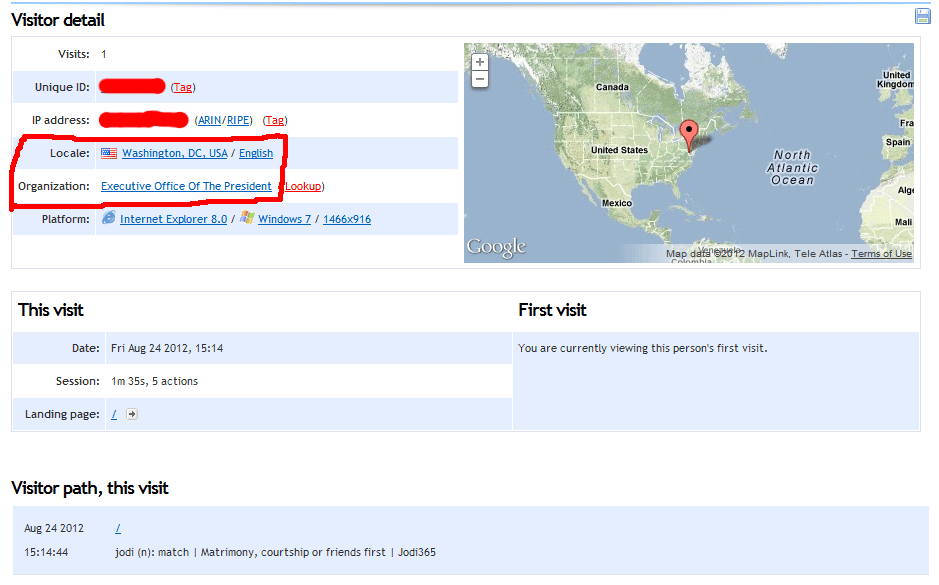 Against this backdrop, and with the presidential election less than three months away, you would think it was rather bold of President Obama to do a Reddit "AMA" – short for "Ask me Anything" – last week.  Any political pundit worth his punditry would have questioned the wisdom behind "Ask me anything."
We were caught up with ongoing investigations and analyses of Coalgate and Sachin's getting constantly bowled through the gates.  But we ask now: What were you doing at an Indian matchmaking site, Mr. President?  Is Michelle Obama aware of it?
Pray, tell us, because India demands to know!
This blog post first appeared in The Unreal Times.
Obama image courtesy of The Unreal Times.
Editor's note:
Coming to the Indian political scene, don't you think it is about time Rahul Gandhi got married? Read about it here: The Search for Rahul Gandhi's Bride. 
You can also download our app from Google Play Store.