For most people in Chennai, the capital city of Tamil Nadu and where Jodi365.com's India office is based, one event comes instantly to mind when they think of April 14.  It is the first day of the Tamil New Year and is also known locally as Tamil Puththaandu or Varsha Pirappu.  However, Tamil New Year is not the only festival celebrated on this day.  April 14 is a public holiday in a number of other states in India and South-East Asia.  Take a look.
Orissa: Mahavishuba Sankranti / Meru Sankranti / Pana Sankranti
Pana Sankranti is the first day of the Oriya New Year. The festival gets its name from a drink made that day, of water and misri and called pana. The pana is filled in a pot that hangs on tulsi or basil.  A hole is made at the bottom of the pot, allowing the pana to drip down in a manner symbolizing rain. The festival culminates with the Meru Yatra, a cultural extravaganza put up by the people.
Kerala: Vishu
Vishu is a predominantly Hindu festival celebrated in Kerala.  The Vishukani, or 'first sight', is a ritual arrangement of auspicious articles signifying prosperity and well being and one is expected to see this arrangement first upon waking up on Vishu.  Vishu sadhya is a feast served on this day, with a spread of sweet porridge–like Vishu kanji; rice cake, Vishu kata; neem pickle, Veppampoorasam; and sour mango soup, Mampazhapulissery.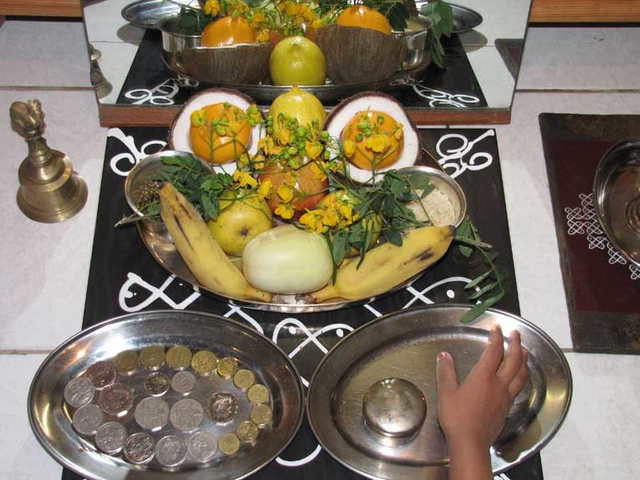 Image courtesy of mohan_ayyar
Bengal: Pohela Baisakh
The first day of the Bengali New Year is a day for cultural activities, new beginnings – for individuals and businesses – and expressing gratitude. On this day, people, clad in traditional attires, take part in the Probhat Pheri processions early in the morning to welcome the New Year.  Shops, stores and offices are decorated with flowers, garlands, and auspicious mango leaves. People offer puja and prayers to Goddess Kali.  Fairs and expos are the festival's major attractions.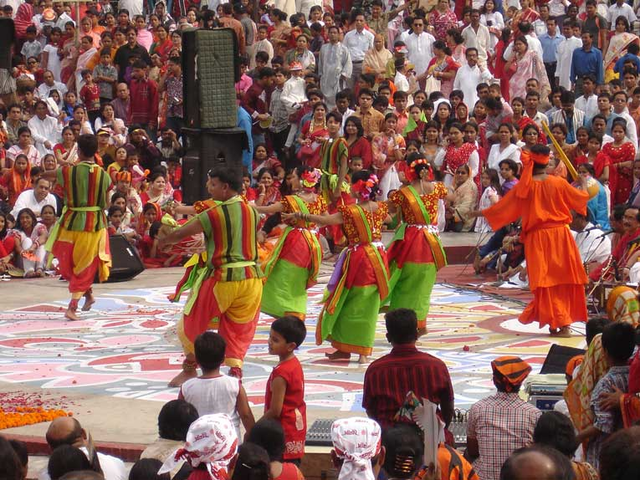 Image courtesy of Kazi_Agaz
Assam: Rongali / Bohag Bihu / Mesadi / Vaisakhadi
Bohag Bihu, also Assamese New Year is a harvest festival. The second day of the festival, which is celebrated on April 14, is called Manu (man) Bihu.  On this day, delicacies and fineries are prepared in reward for people's hard work throughout the year. Folk songs called Husorisare sungto welcome the Southwestern monsoon. Assamese delicacies such as pitha, larus, and jolpan are also prepared on this day.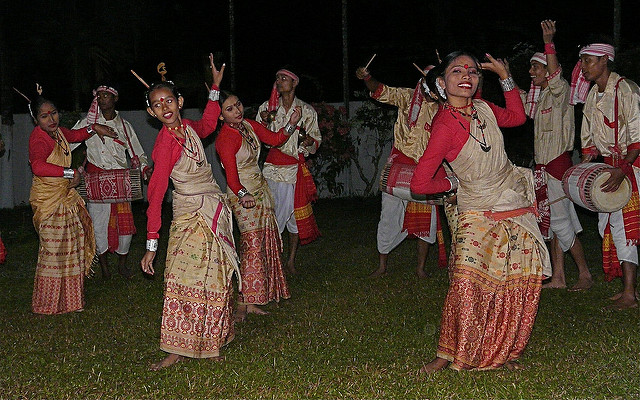 Image courtesy of Rita_Willaert
India: Ambedkar Jayanthi
 This day commemorates the birth anniversary of the Indian constitution's father and avowed Buddhist, B.R. Ambedkar. Statues of Dr. Ambedkar, who was also a leader of the supposedly backward classes, are garlanded and people across classes and castes worship him as their savior. This day is also celebrated by Indian Buddhists.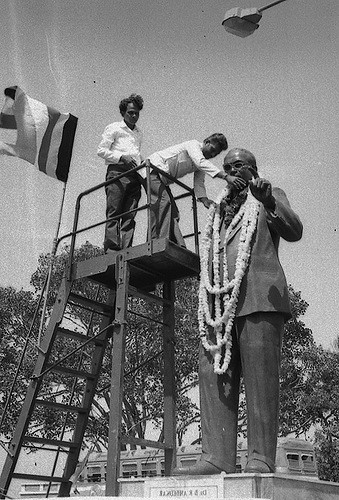 Image courtesy of Triratna_Photos
Bihar: King Ashoka's Birth Anniversary
In December 2015, the Government of Bihar announced a festival commemorating King Ashoka's birth anniversary on April 14. While historians have criticized the Government for taking history into its own hands, the latter has cited the Buddhists' celebration of 'Enlightenment Day' on April 14 as their justification.
Nepal and India: Jude Sheetal
Jude Sheetal is the first day of the Maithili New Year.  Celebrated in the Mithila region spreading across Nepal and India, the festival celebrates the birth anniversary of the Himalayan King Salhesh or Sailesh. In every Mithila village, a Rajaji gahwar, or 'Rajaji's abode' is installed wherein people do puja and offer prayers.
Myanmar: Thingyan Water Festival
The Thingyan Water Festival takes place a day before the Myanmar New Year.  On this day, people wear their traditional clothes and participate in games and cultural activities. They also dance to local music while throwing water on each other. This act is a symbol of the washing away of all misfortunes from the previous year. The highlight of this day is the ceremonious release of birds and fishes, symbolizing the excellence of freedom.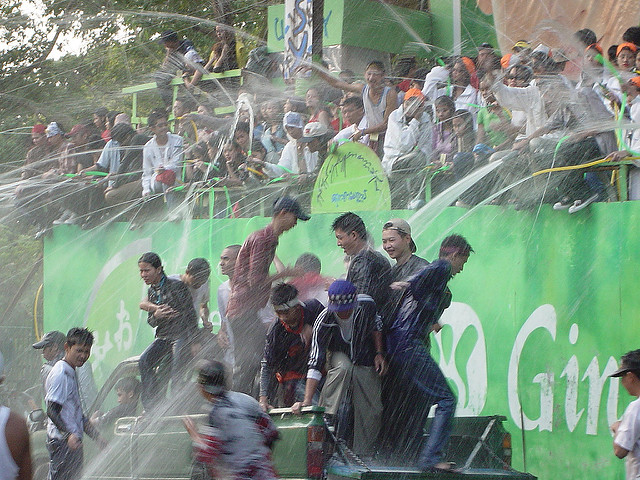 Image courtesy of Sophia_&_Tobias
Sri Lanka: Aluth Aurudu
Aluth Aurudu is the first day of the Sri Lankan New Year and marks the end of harvest and spring. The day begins with house cleaning and the lighting of an oil lamp. Consuming the kiribath, a porridge made of milk and rice, marks the first transaction of the New Year. Small oil cakes called kavum and crisp sweetmeats called kokis are the delicacies prepared on this day.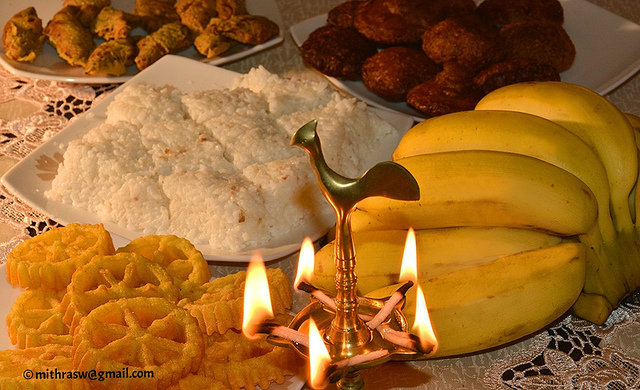 Image courtesy of Mithra_Weerakone
Laos: Lao Songkran
Lao Songkran, also known as Pi Mai, is the festival celebrating the New Year according to the Laos calendar. On this day, perfume, scented water and elaborate flower arrangements are prepared to be offered to monks by the people for blessings of life and peace. Lao music called molam and the traditional dance called lamvong are performed.  Sand is moulded into stupas and mounds, which are decorated and presented to monks. The Miss Pimai Lao, a beauty pageant held ever year on Lao Sangkron, is a major attraction.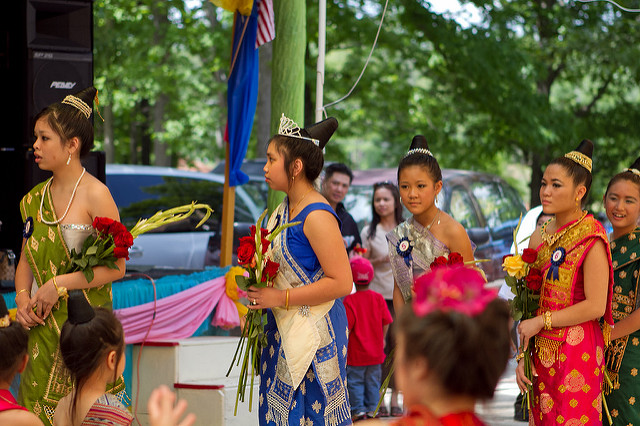 Image courtesy of Sam_Sith
Cambodia: Virak Vinabat
Virak Vinabat is the second day of the Cambodian New Year, which is called Choul Chnam Thmey in the Khmer language.  On this day, people make charitable contributions to the less fortunate, including low-income families and the homeless. As a mark of respect and gratitude, people conduct a dedication ceremony to ancestors at local monasteries.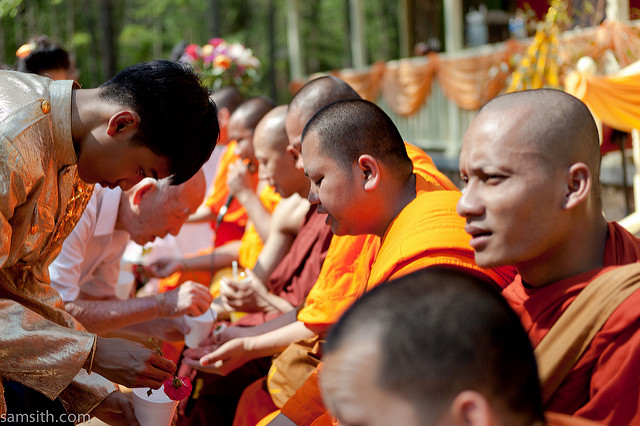 Image courtesy of Sam_Sith
How do you plan to mark April 14?
Editor's note:
If you are single this new year, here are some things you can do: 10 Ways for Singles to Begin the New Year.