Jodi365 is for quality singles. People have long needed to take our word for it, though. That's because we're big on privacy and don't let random visitors browse profiles on our platform, as if it were a shopping catalogue. However, through this new Spotlight section, we're happy to showcase attractive, accomplished, and authentic single professionals – individuals who are representative of the kind of quality singles you can find on Jodi365. Here's introducing Jaini Doshi, a single, smart, and stunning young Indo-Dutch woman.
---
Introducing Jaini Doshi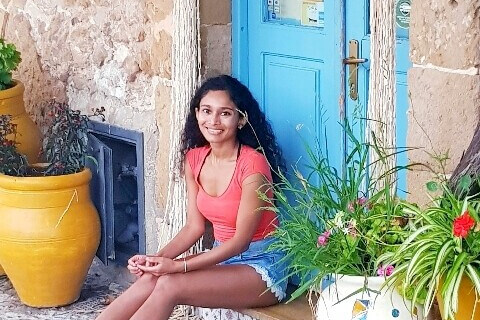 Describe yourself in a paragraph.
Hey there, so here I am, looking for a partner, a soul mate. I am a banking professional, living and working in Amsterdam since 2013. I love travelling, exploring new places, cuisines, cafés, restaurants and bars. I'm passionate about Italy, and have been to 50 villages, towns and cities in Italy. My holidays are generally not complete without beaches.
I am ambitious and confident, yet humble. I believe in fitness and like working out. I'm looking for somebody with similar interests and school of thoughts.
I'm looking for a relationship first, with the prospect of marriage, that is filled with love, loyalty, intimacy, care, respect and honesty. Looking to meet somebody who believes in and wants the same things too.
I'm a Dutch citizen and am open to a prospective partner who would be willing to move to the Netherlands. At this point in my life, I'm not open to moving out of the NL.
If you could take up another occupation for a day, or a week, what would it be and why?
If I could take up another occupation for a week, it will be to own a recreational hotel or a restaurant by the beach on the Adriatic coastline in Puglia, Italy – because I'm passionate about Italy, and wish to settle down and do exactly this someday.
How would those who know you personally – family and friends – describe you?
My friends and family will describe me as a go-getter, a strong, independent and an ambitious woman, a great friend and most importantly somebody who lives life on her own terms.
What are the most important qualities that you're looking for in a potential partner?
The most important qualities I'm looking for in a potential partner is honesty, loyalty/fidelity (monogamy). Somebody who believes in and is looking for love, intimacy and a soul connection. Somebody who is ambitious, determined to achieve his goals, is intelligent and smart. Somebody who is fit, who is presentable and communicates well. And somebody who loves to travel, especially beaches, explore new places, cuisines and have new experiences.
What do you consider essential to a successful relationship?
I believe the following are the most essential to a successful relationship: love, loyalty, intimacy, care, respect and honesty.
In addition to that: Looking to meet somebody who believes in and wants the same things too, and has similar interests.
What's your favorite food?
Italian, Thai, Greek and home-cooked Indian meals.
What is the last book, movie, or TV series that you enjoyed?
Last book: Omerta by Mario Puzo
Last movie: Thappad, Panga and Tribhanga
Last series: Queen of South and Firefly Lane Girls Forever on Netflix
What other activities or interests do you like making time for?
Travelling, working out, sleeping a lot, walking, exploring new restaurants bars and cafés in town, blogging about Italy, and spending time with family and friends.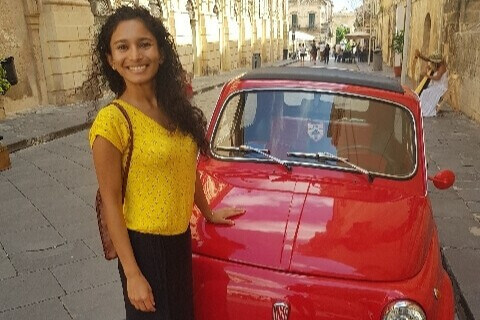 What do you enjoy spending money on? What do you not enjoy spending money on?
I love spending money on: travelling comfortably in Europe, especially to Italy but not only Italy, fashion (new clothes, handbags, shoes, accessories, perfumes), books, whiskies (I seldom drink but when I do, I love Islays), exploring new cuisines, restaurants, bars and cafes, skin care and self care.
I hate spending money on: paying house taxes and my mortgage, what else 😉
What do you think are the most troubling issues in society today? What gives you reason to be hopeful for the world?
The most troubling issue in society today, especially in the Indian society is that we haven't, aren't always raising our boys right for them to become decent men. While this is not always the case and I've come across some genuinely nice men in my life, it certainly needs a lot more work across the Indian society. Only when we raise the boys right, will they grow up to be men who know how to treat women well, respect, love, cherish and celebrate women and womanhood. And only then, will we be able to solve issues related to gender inequality, rape, assault against and oppression of women.
List four things that you haven't yet done or experienced but would like to in this lifetime.
1. Buy a house by the beach on Adriatic coastline in Puglia, Italy
2. Find a partner to share my life with
3. Go skydiving
4. Go deep sea diving
What are you most grateful for? What are things that bring you joy?
I'm most grateful for having my parents who're so understanding and encouraging of my life choices. They've truly given me the wings to fly, made me independent and self-sufficient, and supported me in living life on my own terms. Spending time with my family and friends and in future with my partner will truly give me joy.
Editor's note:
Stay tuned for more interviews and user stories! To find the right partner, at your own pace, visit Jodi365.com or download the Android app.
Want to connect with Jaini Doshi herself? Well, we consciously don't expose Jodi365 users' profiles to search engines or even random visitors to our platform. The only people who can view her profile are registered users who meet her partner preferences. Only one way of finding out! Hop over to Jodi365 and create a thoughtful profile of your own.
Know a suitable boy in Holland, or thereabouts in Europe? Send this interview his way. A couple may well thank you at their Indo-Dutch wedding!